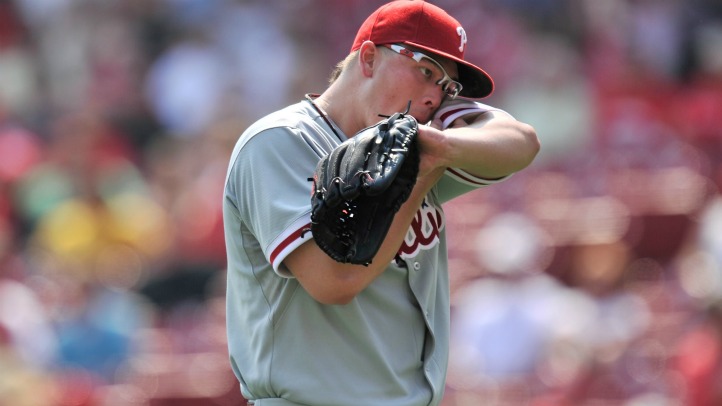 The question of the fourth starter in the Phillies rotation seems to be a closed matter.
Roy Oswalt wasn't brought to Philly to be a long reliever, something made clear in all of those Big Four stories that flooded your brain during the preseason. He hasn't had his best year and hasn't been as healthy as you'd like to see, but he's got a track record of success far longer than Vance Worley.
Sam Donnellon of the Daily News concedes that point and even calls Oswalt a more trustworthy pitcher than Worley before arguing that Worley should be a starter come the playoffs. Go ahead and reread that, we'll be here when you're done.
Per Donnellon, Oswalt's experience and savvy will be of better use to the Phillies as a long reliever than they would be starting games in the postseason. Worley is prone to making mistakes and putting runners on base, so you would want him pitching earlier in games instead of coming in with runners on base in tense situations later in games. Oswalt's veteran approach would serve him well in those spots, you see, and Worley's nature would be an invitation to disaster.
Where Donnellon's argument falls apart is his insistence that relief work is as valuable or more valuable than starting pitching. He's hardly the first to make the mistake and there have been far worse practitioners of the tactic in the past, but he's still wrong.
If, as Donnellon argues, Oswalt is the more trustworthy option on the mound, then you want him pitching as many innings as possible. You want him on the mound at the start of the game so that he is responsible for a larger portion of outs and because you'd like to stop the bleeding before it starts instead of when the game is on the verge of being lost.
Relief pitching is obviously important, but the notion that it is as important or more important than starting pitching is erroneous. Beyond the simple math involved, one is guaranteed and the other is hypothetical. The Phillies should put the pitcher they think most capable in the rotation without any consideration about which one seems better suited for relief work.
There's an argument to be made for Worley starting in the postseason, but it isn't about which guy will make a better fit as a reliever. If you want to argue in favor of Worley, point to his superior strikeout rate and to the fact that he's done a better job at the components that go into Fielding Independent Pitching.
But if your argument is that Worley runs the risk of allowing big innings to the opposition and that you like that more in a starter than a reliever, well, that dog just ain't gonna hunt. That's an argument for keeping Worley off the postseason roster entirely, certainly not what Donnellon set out to do in his column.
Copyright FREEL - NBC Local Media