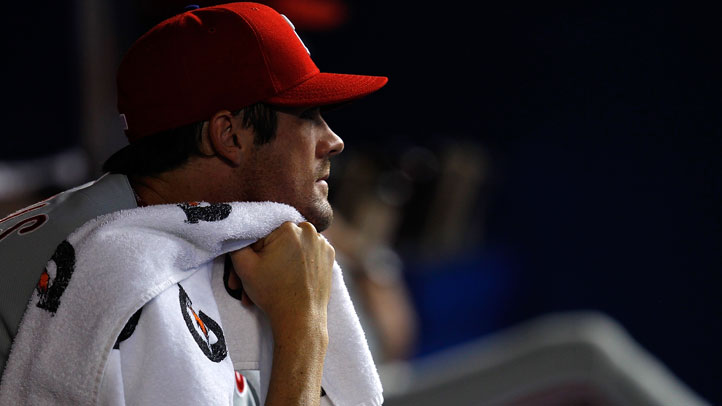 For a gossip hound like myself, there's really nothing better than the month leading up to the MLB trade deadline (July 31 for those scoring at home). All kinds of ridiculous flotsam-esque trades start floating to the surface and we discuss them, regardless of their viability.
Phillies GM Ruben Amaro is not quite as big a fan, and when he was pummeled with questions about a recent report that the Phils were fielding calls for Cole Hamels, he kind-of, sort-of denied those rumors. At the very least, he denounced them.
"These aren't things we discuss or talk about in front of other people," Amaro said, per Matt Gelb of the Philadelphia Inquirer. "But our goals are always the same. Our goal is to try to continue to contend this year, to try to win the National League East. If we can't do that, we want to be a playoff club.
"Our other goal, frankly, is to keep Hamels in our uniform, short-term and long-term."
The questions, though, are a) can the Phillies contend?, and b) can the Phillies really sign Hamels long-term before the season ends? If the answer is even close to "no" on either question, Philadelphia would be wise to deal the left-hander, provided Amaro can get back enough prospects in return. After all, deal Hamels and it doesn't preclude you from re-signing him this offseason too. It's a move Philly already pulled with Cliff Lee anyway.
Back to the rumor mill, though: Amaro believes that all the Hamels chatter is simply part of the gossip-fest that I hold so dear to my heart.
"A lot of these rumors are products of the timing and way we're playing," Amaro said. "This is what happens in July. You have a team that's not playing very well, and we have very good players. We are going to get these types of rumors out there. I just want to make sure people understand where we stand."
He's right on this. If you're a veteran team expected to contend and you're not contending and you're in the cellar of your division and you've got a superstar, left-handed pitcher who's on the final year of his contract, yes, people are going to talk about you dealing him. Because you should, especially if that pitcher hasn't indicated that he's desperate to stay in your city.
But even if that scenario didn't call for getting the pitcher locked up, the rumor mill would still churn on anyway, a boat against the current, borne ceaselessly into the trade deadline.