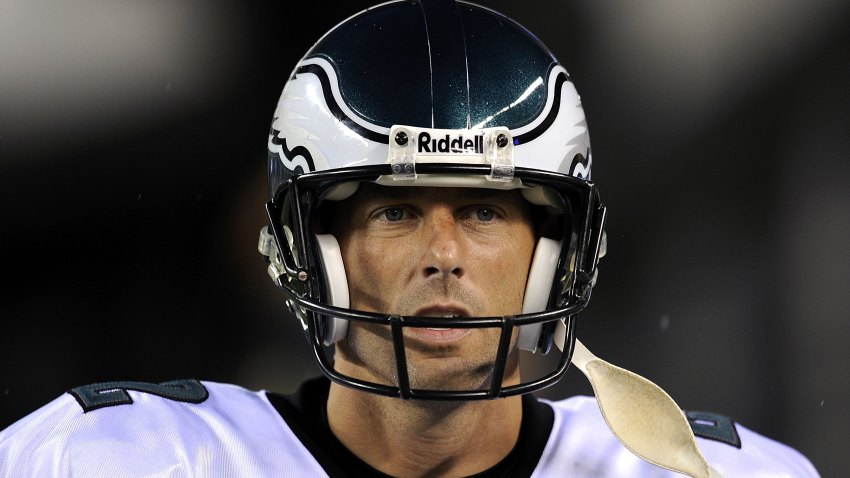 Things weren't always pretty as the Eagles edged the Jags 28-27 in their preseason opener at the Linc Friday night.
At least David Akers looked sharp.
The game started off with Kevin Kolb's first team offense having its way mostly with the Jags top defensive unit. Kolb went 6-for-11for 95 yards in his quarter of work. But the Birds only came away with a pair of Akers field goals after Kolb missed a few critical shorter passes. And the starting QB was hurt by a Brent Celek drop on a would-be TD pass.
"It was good. Obviously, when you get down into the red zone you want to score points, but both drives were successful," said Kolb. "We racked up some yards there and put six points on the board."
The starting QB got some help from his friends. Wideouts Jeremy Maclin and DeSean Jackson both made nice 20-plus yard grabs, Shady McCoy averaged 3.75 yards per carry and the starting defense put up back-to-back three-and-outs on the board in their only series against Jacksonville.
But, enough about the starters -- preseason games are much more about the second and third-stringers just trying to land a job in the NFL.
Here were some observations:
Wide receiver Chad Hall should probably get running back, kickoff returner and punt returner added to his player card. "Air Force One" looked good on a few rushes late in the third quarter, a nice 57-yard reception and did a good job at knowing what to do on punt and kick returns.
Seventh-round draft pick Kurt Coleman made his name known. He had six tackles including a brutal hit on special teams coverage.
"I had a good time out there," Coleman said about his first NFL preseason game. "Anytime you can put big a lick on somebody it feels real good."
Backup running back Eldra Buckley, who seems to have been victimized by some of the biggest hits at Lehigh, got a chance to hit a guy on Friday when he took down a Jaguar returning a fumble.
Another backup RB, Martell Mallett, seemed to run the show late in the game as he scrambled for and 3-yard TD and 60 yards on 15 carries including his critical 2-yard rush on 4th and 1 that kept a drive afloat. Plus he added three grabs for another 18 yards. Putting up nearly 80 totals yards -- not bad for the former CFLer.
Also in very deep third-string territory undrafted rookie safety Ryan Hamilton looked faster than anyone else out there when he was on the field. He racked up three of his own tackles in junk time.
But not all was good.
The offense managed only two touchdowns in eight trips into the red zone.
"It's nice to give David (Akers) some kicks, but not that many," head coach Andy Reid said.
Early in training camp kickoff specialist Ken Parrish told me he wanted to prove that he could mix it up -- make some tackles. He got his wish. Three times he was thrust into tackling duties on long kick returns by J-Ville.
The Eagles need to tighten up their kicking game or else the defense will be defending a short field a lot this season.
The Eagles backup defensive backs were burned for three long TDs including a 73-yard Troy Williamson grab right over top of nickel back Joselio Hanson.
And Michael Vick showed flashes of brilliance like his 10-yard TD dash but also looked terrible on a rumbling fumble and looked really bad on an interception directly to Jags DB Michael Coe.
Some of the mishaps should be worked out in the coming days as the Birds resume training camp at Lehigh. While other problems could be solved by sending some under performers out of the Birds nest.