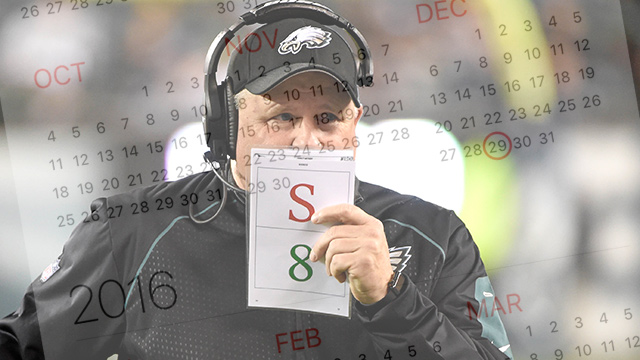 On Dec. 29, 2015, at 7:12 p.m. an email was blasted out from a former member of the Eagles' public relations staff with the subject head: "Eagles Release Head Coach Chip Kelly."
It was the kind of email that, even with the way the 2015 season had gone, necessitated a double take. A triple take. A quadruple take. The Eagles had fired Chip Kelly.
The 129-word understated email included the following statement from owner Jeff Lurie: "We appreciate all the contributions that Chip Kelly made and wish him every success going forward."
With that, the Eagles were moving forward too. The team scheduled a press conference for the next day and began the search for a new coach. A lot has happened to the organization in the year since.
Here's a chronological look back:
• Dec. 29, 2015 - Chip Kelly is fired
• Dec. 30, 2015 - Jeff Lurie explains the decision to fire Kelly
Lurie holds a press conference at noon the next day and says he wants his next head coach to have "emotional intelligence," a clear knock on Kelly. In addition to talking about what qualities the next coach should possess, he says Howie Roseman will be a part of the team's search to find the next coach and reinstates him back into a position of personnel power.
• Jan. 18, 2016 - Doug Pederson is hired as head coach
The Eagles already made their decision to hire Pederson but had to wait until the Chiefs got knocked out of the playoffs to make it official. Pederson becomes the 21st head coach in franchise history after three seasons as Andy Reid's offensive coordinator in Kansas City. [[139836153, C]]
• Jan. 18, 2016 - Eagles hire Jim Schwartz as defensive coordinator
• Jan. 19, 2016 - A humbled Howie Roseman wants to focus on people skills, explains time away
• Jan. 20, 2016 - Frank Reich named offensive coordinator, rest of staff announced
• Jan. 25, 2016 - Five-year extension for Zach Ertz
• Jan. 26, 2016 – Three-year extension for Brent Celek
• Jan. 29, 2016 - Six-year extension for Lane Johnson
• Feb. 2, 2016 - Five-year extension for Vinny Curry
• Feb. 22, 2016 - Five-year extension for Malcolm Jenkins
The Eagles make it a point to sign their own players to long-term deals before going out and adding through free agency. Roseman argues these moves are the most important of the offseason. Several of them are based on potential, rather than production.
• March 9, 2016 - Eagles sign free agents Brandon Brooks, Rodney McLeod, Ron Brooks
• March 9, 2016 - DeMarco Murray traded to Tennessee
A year after the Eagles brought in the NFL's top rusher, they trade a disgruntled Murray to the Titans for a simple swap of their fourth-round picks. Murray goes on to have a Pro Bowl season in Tennessee.
• March 9, 2016 - Eagles get No. 8 pick from Miami for No. 13, Kiko Alonso and Byron Maxwell
• March 11, 2016 – Mark Sanchez traded to Broncos for conditional pick that ends up being nothing
• April 20, 2016 - Eagles move up to No. 2 in the draft by trading with Cleveland
• April 28, 2016 - Carson Wentz taken by Eagles with No. 2 overall pick
While Roseman claimed the Eagles liked Wentz and Jared Goff when the Eagles moved up to the No. 2 pick - he compared them to chocolate and vanilla ice cream - the Eagles get the guy they really wanted all along in Wentz. Nearly two decades after the Eagles used a No. 2 pick on Donovan McNabb, they get another quarterback with the second pick. While Wentz is from North Dakota State of the FCS, the team and talent evaluators herald him as a top QB prospect.
• June 9, 2016 – Nelson Agholor accused of sexual assault at Cheerleaders Gentlemen's Club - Philly DA later decides to not charge Agholor
• June 13, 2016 - Fletcher Cox signs a six-year mega contract
After a long wait, the Eagles lock up their best defensive player to a huge new contract. It's worth $103 million, with $63 million guaranteed.
• July 25, 2016 – Nigel Bradham arrested in Miami for alleged assault
• Aug. 16, 2016 – Eagles trade Dennis Kelly to Tennessee for WR Dorial Green-Beckham
• Sept. 3, 2016 – Sam Bradford traded to Minnesota
A little over a week before the start of the regular season, the Eagles trade their starting quarterback. In return, they get a first-round pick and a fourth-rounder.
• Sept. 5 2016 – Wentz named starting quarterback by Pederson
The Bradford trade didn't just get rid of the team's starting quarterback, it completely changed the organization's plan. Wentz becomes the starter despite missing most of the preseason with a rib injury. Pederson elects to pass over backup Chase Daniel. Wentz goes on to start all season.
• Sept. 7, 2016 - Eric Rowe traded to New England for a 2018 fourth-round pick
• Sept. 11, 2016 – The Doug Pederson Era starts off with a 29-10 win over the Browns
• Sept. 25, 2016 – The win that boosts expectations: Eagles top Steelers 34-3 at home
• Sept 29, 2016 – Wentz named NFC Offensive Rookie of the Month
The Eagles are 3-0, coming off a huge win, and Wentz has been incredible. In his first three games before the bye week, Wentz has completed 66 of 102 passes for 769 yards, five touchdowns and no interceptions.
• Oct. 2, 2016 – Bradham arrested again
Bradham's second arrest in a few months. This time he tries to bring a loaded gun through airport security in Miami. He claims he simply forgot the gun was in his backpack. Defensive coordinator Jim Schwartz says what becomes the quote of the year: "You do dumbass things, pretty soon, you're going to be labeled as a dumbass."
• Oct. 9, 2016 – Ryan Mathews has a late fumble and the Eagles lose 24-23 to the Lions in Detroit - their first loss of the season
• Oct. 11, 2016 - Lane Johnson suspended 10 games for second failed PED test
The suspension that has been looming over the team finally happens. The Eagles lose their best offensive player for most of the season. After the game in Detroit, Johnson says he hopes the Eagles can hang on without him and that he'll be able to come back for the final playoff push.
• Oct. 23, 2016 – Eagles beat Vikings 21-10 to improve to 4-2
After two losses, the Eagles have an impressive win over Minnesota and Bradford, who led the Vikings into the game with a perfect 5-0 record. The Eagles win the game, but lose slot corner Ron Brooks for the season, which will change the secondary for the rest of the year.
• Oct. 30, 2016 - A 29-23 overtime loss to the Cowboys in North Texas
• Nov. 3, 2016 - Josh Huff released shortly after arrest
Just days after the Eagles' kick returner and receiver gets arrested after being pulled over crossing the Walt Whitman Bridge, the team releases him. The release comes a day after Pederson said the team was gathering more information but expected Huff to play on Sunday. Huff actually practices on Wednesday before being cut on Thursday.
• Nov. 17, 18, 2016 - Eagles give Chris Maragos, Jon Dorenbos and Donnie Jones three-year extensions
• Nov. 28, 2016 – Agholor a healthy scratch against Packers
After admitting that he was overwhelmed by pressure, Pederson elects to give Agholor a mental health day off against Green Bay at the Linc. Agholor watches the 27-13 loss from the sideline.
• Dec. 4, 2016 – The worst loss of the season comes by a score of 32-14 at Cincinnati
• Dec. 14, 2016 – Right guard Brandon Brooks says anxiety condition forced him to miss two games in three weeks
• Dec. 18, 2016 – Fifth straight loss comes by a score of 27-26 in Baltimore after the Eagles can't convert on a two-point conversion to win
• Dec. 22, 2016 – A 24-19 win over the Giants at home snaps the losing streak
After five straight losses, the Eagles find a way to beat New York at the Linc. The Eagles used several big plays - something that had been missing on offense - to take down a playoff team. [[247269581, C]]
Copyright CSNPhily