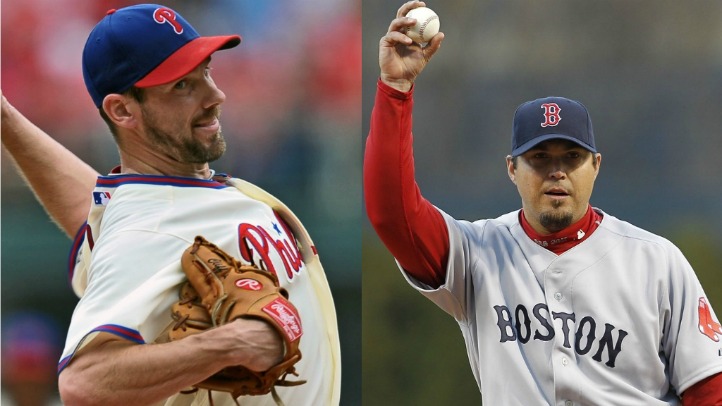 There's a lot of hype around this week's series with the Red Sox being a World Series preview and that calls to mind something Grandpa used to say.
"People who predict the World Series in June should be locked up in a barn with two syphallitic pigs in heat until October."
Okay, Grandpa never actually said that. He wasn't much of a baseball fan nor did he regularly refer to livestock with sexually transmitted diseases. Still, there's truth in this fictional axiom. There's way too much time between now and the World Series to start researching the best places to get fried clam bellies in Beantown.
Just live in the moment and enjoy all the baseball that is coming our way. There's no better place to start than Tuesday night when one of the more intriguing pitching matchups of the season falls into our laps.
In one corner is Josh Beckett, owner of the best ERA in the American League. He's coming off a shutout in his last start -- it was a while ago because of stomach issues that caused him to miss his most recent scheduled start -- and has bounced all the way back from a disappointing 2010 season. If he can get through Tuesday night with a sub-2.00 ERA, he'll become the first Red Sox pitcher to pull that off since Pedro Martinez.
In the other corner is Cliff Lee, the man who has turned in a June for the ages. He's thrown shutouts in his last two starts, has 23 straight scoreless innings under his belt and will be bidding for history when he takes the mound on Tuesday. He has a 0.27 ERA this month and no pitcher since WWII has made five starts in June with an ERA lower than the 0.50 marks of Bob Gibson and Rick Honeycutt.
Seriously, Rick Honeycutt. June, 1986 was a month to remember in that household.
Why would you bother thinking about dinner in October when there's a meal like this to savor on your plate right now? There's even a handy villain on-hand for Lee to do battle with on his way to making history.
Adrian Gonzalez has gone 7-for-10 against Lee in his career, numbers that could make Honeycutt remain June's leading man if they repeat themselves. It might seem a scary thought that such an accomplished hitter has handled Lee so well over the years, but it actually just makes for a better game.
Great men are made by the obstacles they overcome, so if Lee can take down Gonzalez and the rest of this Sox lineup, he'll have truly earned his place in the history books.
Copyright FREEL - NBC Local Media