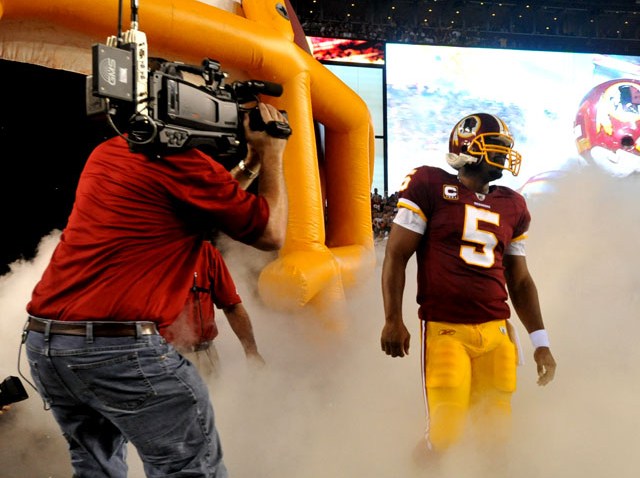 If before the first Eagles-Redskins meeting this season Washington had rewarded Donovan McNabb with a 5-year extension totalling $78 million, I would have been shocked at the money -- but not the sentiment. Before that Week 4 showdown, McNabb was playing as well, if not better, in 2010 than he did in 2009.
Turns out though, as we go into the second McNabb Bowl tonight, things haven't exactly gone as well since that fast beginning. Leading up to his late game benching two weeks ago, No. 5 has been having his worst season since, at best, his rookie year. Look at the numbers.
Completion percentage: Third worst of his career.
Net Yards per Attempt: Worst since 2003.
Interception percentage: Worst since his rookie season.
Touchdown percentage: Career worst.
Touchdown to Interception ratio: Career worst.
Quarterback rating: Worst since his rookie season.
Some of this poor performance is due to McNabb's new supporting cast. Washington's starting running back is a former practice squad player, there are few quality receivers to throw to, and the offensive line's pass protection is inadequate.
But it can't all be blamed on the rest of the offense. McNabb just isn't good enough to carry an NFL team on his back anymore. Surrounded by a good offensive line and talented skill players like he was last season in Philadelphia, McNabb can still put up good -- if not great -- numbers. But put him in a mediocre system and suddenly he looks like a dead-ringer for Washington's former QB Jason Campbell.
If you just take a gander at Football Outsiders DVOA rankings, McNabb is only the 28th best quarterback in the NFL. The All-Pro candidates ahead of Donovan: Kerry Collins, Ryan Fitzpatrick, Matt Cassel, Shaun Hill, Josh Freeman -- turns out they're all massively underpaid.
At this point, McNabb could still bounce back in the second half of the season. Yet he is clearly no longer worth superstar money, which is what Washington is now committed to paying him. Based on the trajectory of McNabb's career, this contract extnsion makes no sense, even in Dan Snyder's universe.