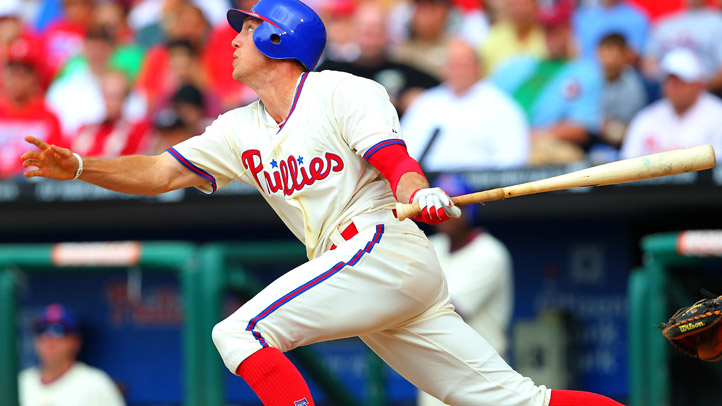 Despite a four-game winning streak heading into Friday' game in Atlanta (one that they would lose), the Phillies were very much active in the trade market, as they potentially look to unload players to contending teams.

While a lot of the chatter has surrounded Shane Victorino, who was rumored to have been offered to the Cincinnati Reds earlier in the week, the Phillies also seem bent on finding a suitor for right-fielder Hunter Pence.

Even though they just acquired Pence last season in exchange for a very attractive package of prospects that are now succeeding in the Houston Astros organization, it makes a bit of sense for them to explore a potential trade, as Pence has one year of arbitration left before hitting the open market as a free agent.

And at a salary of just over $10MM in 2012, it stands to reason that he'll earn at least $13-$14MM in 2013, which would add a bit of stress to the already taxed Philadelphia payroll. Moving him now – while somewhat foolish given what they gave up for him last year – would allow them to have increased payroll flexibility next year while simultaneously allowing them to start to build out their farm system.

Although there hasn't been a ton of talk around Pence, there are a number of teams that would look to acquire the services of an above average hitter and corner outfielder. And according to Jon Morosi of Fox Sports, who tweeted about it Friday afternoon, the San Francisco Giants could be in the market for his services.

The report doesn't explicitly state that the Giants have been scouting Pence (although Pat Burrell – who is now a scout in their organization – was in attendance for the Phillies/Brewers series), that doesn't mean much at all. If the Giants are interested in Pence, and if they have the bodies to move to obtain him, then the Phillies would be silly not to move him.

What will they get back in a potential trade? That's hard to say. I'm not an expert on farm systems, and San Francisco's young talent is a mystery to me, so for me to speculate would be a waste of words. It will likely not be as attractive a package as the one that was sent to Houston to get Pence, but at this point, the Phillies would probably consider it to be a minor victory if they could get a small amount of value from a Pence trade, even if that value comes in having a less taxed payroll in 2013.