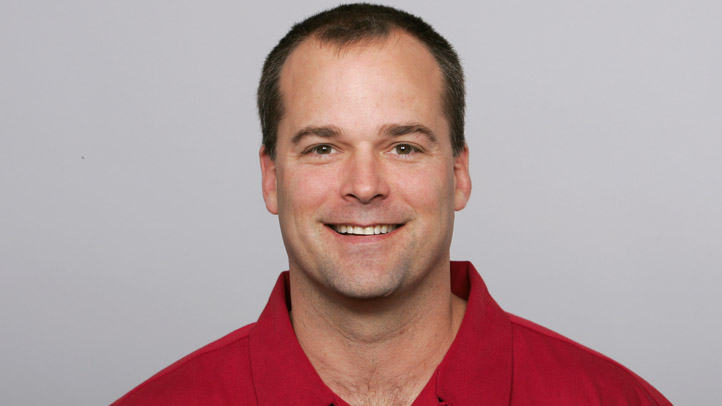 It's easy to make snap judgments about assistant coach hires and their past record on other teams. New Eagles defensive coordinator Billy Davis certainly doesn't have a sparkling resume as a coordinator on paper. But he has tons of experience in 3-4 schemes, and recently has employed more of the hybrid look that many fans were clamoring for when Gus Bradley was in town.
In Arizona, where Davis was linebackers coach for two seasons and defensive coordinator for another two, his preferred scheme was the "4-3 Under." The name is deceptive, because it's not a classic 4-3 look like we're used to seeing from the Eagles. It borrows elements from both the 3-4 and 4-3, and depending on the formation, can lineup looking like either.
You can (and should) read about it directly from Davis' mouth here and here. But let me show you, to the best of my ability. Here's what the base 4-3 Under defense looks like:
Let's start up front and work our way back. If you focus on the two defensive linemen DE-NT on the strongside (left) of the formation, the look is similar to a lot of 3-4 schemes. The nose tackle should be a big run stuffer who ideally can occupy two blockers. He'll often come off the field in passing situations. On the strongside, there's a defensive end whose primary job is similar to the all-around 3-4 defensive end: get some pressure, but mainly stuff the run.
Coming to the weakside (right), you look more for pass rushers. Because the nose tackle will be occupying two linemen in the middle, both your defensive tackle and end should have mostly one-on-one matchups. This is where you want to get a lot of pressure. That defensive end, known as the "Predator" in Davis' scheme, is going to rush nearly every play, so he doesn't have to be as versatile as your typical 3-4 outside linebacker. However, he looks like that 3-4 player at times because he can move around, rush from a standing position, and occasionally drop into a zone.
Moving to the linebackers, let's start with the strongside (SLB). Last year in the Eagles' more typical 4-3 scheme, the strongside backer was mostly a coverage guy who handled the tight end. In this defense he's much more of the classic 3-4 OLB. He's going to stand up at the line and engage the tight end, but he'll often pass rush instead of dropping back into coverage. With a player like this, you're adding some of the great unpredictability of a 3-4 defense.
The middle linebacker in this scheme has to be someone willing to go up against offensive linemen. As you can see in the diagram, unless the nose tackle holds a double team, the MLB is heads-up against a guard. A slightly bigger "thumper" is necessary here. In contrast, the weakside linebacker is free to roam. Because he lines up behind three defensive linemen, he shouldn't have big blockers coming at him. While the MLB engages in the trenches, this faster player should be flying through the chaos to make the tackle.
The scheme is a nice change from the Wide 9, not because that scheme was fundamentally unsound, but because the 4-3 Under is more flexible and unpredictable. Rather than rushing the same four linemen in the same way every down, you have a 3-4 OLB on the strongside who can cause havoc. You've also set up two of your presumably better pass rushers with great routes to the QB, while still shoring up the run game. On early downs you have a big bodied player clogging up the middle, and on pass plays you can take him out and focus on creative stunts and blitzes.
Importing Davis' ideas also looks good because, at least on paper, it seems perfect for a number of the defenders we want to keep. Fletcher Cox is a great attacking DT. Getting him one-on-one matchups on the weakside should be fantastic for generating inside pressure. The "Predator" DE looks like a great opportunity for older Trent Cole and/or emerging Brandon Graham to pin their ears back. DeMeco Ryans, at 6-foot-1 and 247 pounds, should be able to admirably fill the MLB role, while speedy Mychal Kendricks slips right into the play-making WLB spot.
There are still personnel issues to sort out. Only the disappointing Antonio Dixon has the body type of the prototypical NT. Cedric Thornton showed some promise at defensive tackle last year, but might not be a big enough presence to take on the 3-4 DE role on the strongside. Cullen Jenkins has played that role before, but at 32 he may not make it through cuts. Most importantly, the Eagles definitely don't have a promising candidate to play the strongside linebacker. Here's one description of that player:
The No. 1 reason why more teams don't run a 4-3 Under is the difficulty in finding a player good enough to play the SAM. He needs to be big, strong, fast, and able to cover or rush the passer at any given time. He lines up on the outside edge of the TE at all times, and harasses him off the line, never allowing a free release, staying underneath on routes because you have your safety over the top. He also gets one-on-one matchups on the outside to pass rush.
It's worth noting that there will be a number of potential stud 3-4 OLB-types available at the fourth overall pick. That could be something to watch for as we get closer to the draft.
Want to read more? Check out these links for longer discussion: 1, 2, 3, 4, 5.