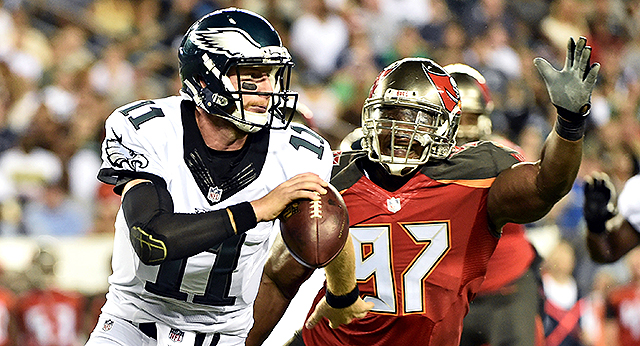 Carson Wentz had one of the best passing games of his career on Monday night.
He completed 68 percent of his passes for 268 yards, four touchdowns and had a passer rating of 126.3 in the Eagles' 34-24 win over Washington at the Linc (see breakdown).
Nobody wanted to talk about that though.
The biggest question his teammates had in the locker room after the game was this: How the heck did he escape on that 17-yard scramble?
On 3rd-and-8 at the beginning of the fourth quarter, Wentz was seemingly sacked well behind the line of scrimmage. At least everyone thought. But that's when the 6-5, 237-pound quarterback somehow emerged from the pile and scrambled ahead for 17 yards.
"Amazing," Nelson Agholor said. "We didn't know how he did that. Three, four plays later we are still on the sideline figuring out how he did that."
It seemed like everyone in the stadium thought Wentz was cooked on that play. The crowd didn't even start cheering until much later. Everyone in the stadium seemed pretty confused.
The Eagles' defensive players even started getting ready to head back into the game. Malcolm Jenkins grabbed his helmet, but then looked at the video screen to see that Wentz was still going.
"That's the magic of Carson Wentz," Jenkins said.
Former long snapper and magician Jon Dorenbos was in the building on Monday night - and got a big ovation as he recovers from a serious health issue - but it was Wentz who pulled a rabbit out of his hat.
"I couldn't believe he got out of that little jam," Brandon Graham said. "He just popped out of nowhere. There's something special going on right now and I'm just happy to be a part of it."
After that Wentz scramble, the Eagles went down the rest of the way and he capped the drive with a touchdown pass to Agholor. That score put them up 31-17 and put the game out of reach for Washington. The Eagles improved to 6-1 and have the best record in the NFL.
His teammates called it magic, ridiculous and awesome. So how did Wentz escape on that play?
He didn't know either.
"I'm not really sure," he said.
When Wentz wasn't scrambling all over the field - he finished the game with a career-high 64 rushing yards - he was making plays with his arm.
Before the Arizona game, Wentz had never thrown three touchdowns in a game. He has now done that three games in a row. Before the Arizona game, Wentz had just three games with a passer rating over 100. He now has six.
Through seven games this season, he has 17 touchdown passes, already surpassing his total from his entire rookie season. He has thrown just four interceptions. In the last three games he has more touchdown passes (11) than 19 teams have all year.
Before Monday, Wentz was already the Vegas favorite to win MVP.
He showed why against Washington.
"That's the type of guy he is, he gets out of trouble, he breaks tackles and he throws dimes," Washington safety D.J. Swearinger said. "He's a great quarterback and he'll be one of the greats for a long time."
While Wentz's 17-yard scramble was the most-talked-about play after the game, there was a close second.
The other question was this: How the heck did he see Corey Clement in the end zone?
In the third quarter, with two defenders barreling down on him, Wentz found Clement on the right side of the end zone. Clement was about his third read on the play.
"He's amazing," Alshon Jeffery said. "On that touchdown to Corey, I'm like, I don't know how he saw him. He must have Spiderman vision. He's great. He does a great job just making plays and seeing guys."
Head coach Doug Pederson called the touchdown pass "one of the best plays I've seen in a long time."
Over the last month, Wentz's elevated play has thrust the Eagles into Super Bowl discussions. If he continues like this, that's not a far-fetched scenario.
It seems like Wentz is just in a zone right now (see Roob's observations).
Does he feel it?
"I feel good," Wentz said. "I do feel good."
Copyright CSNPhily