The winter sports world turn upside down Thursday, at least in Canada, after the United States beat its neighbor to the north in two of its most beloved sports.

It happened to be Team USA's best day so far at the 2018 Winter Games. U.S. athletes won five medals in one day, their biggest haul so far at the Games. But the two upsets on ice were likely the sweetest back home in the States.
First, the U.S. women's hockey team came from behind to beat Canada in a shootout, winning its first gold medal since 1998. Hours later, the American men's curlers booked their own trip to a gold medal match at Canada's expense. Whether it's silver or gold, the U.S. will come away with its best ever Olympic curling accomplishment.
The American victories ended two streaks of sustained excellence for Canada, where ice hockey is a way of life and curling is more than the curiosity it is in the U.S. Team Canada has only ever won gold or silver in women's hockey (which had won the last four gold medals) and men's curling (which had won the last three gold medals).
The loss didn't go over well with at least one member of the Canadian hockey team, who was so unhappy with her silver medal she yanked it off her neck before the next player even got hers.

"We are going for gold," Jocelyne Larocque said afterward. "We are chasing a gold medal."
But the victory was sweet for the Americans, whose only other gold medal came 16 years ago and lost three other gold medal games, all to Canada. It was even sweeter coming on the 38th anniversary of the "Miracle on Ice" game that the men won over the Soviet Union in 1980.

A Shot Called 'Oops I Did It Again' Won the US Gold in Women's Hockey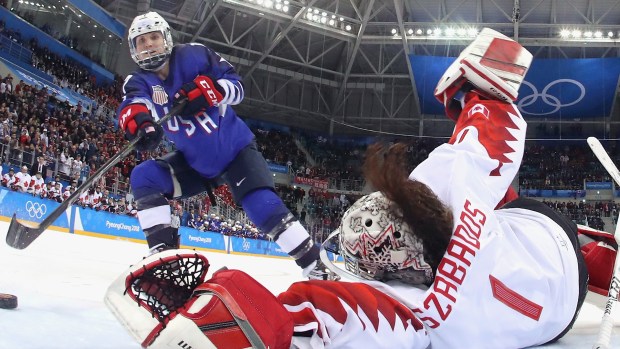 People on Twitter were quick to remark about how shocking the two successive upsets were.
Taking down Canada twice in 6 hours has @TheRock like...#WinterOlympicspic.twitter.com/QTzvpasl3Z

— NBC Olympics (@NBCOlympics) February 22, 2018
THE UNITED STATES OF AMERICA HAS DEFEATED CANADA IN HOCKEY AND CURLING ON THE SAME DAY

— Dan Wolken (@DanWolken) February 22, 2018
Canadians protesting their losses to USA in men's curling and women's hockey #WinterOlympicspic.twitter.com/oMDaOc5v9c

— Ryan Mura (@RyanMura) February 22, 2018
Someone had to end the streak, right?

— USA Curling (@usacurl) February 22, 2018
Canadian Prime Minister Justin Trudeau was nothing but supportive in his response, recording a video with one of the legendary women's hockey players from his country, Hayley Wickenheiser, that she posted soon after the game ended early Thursday morning in the U.S. and Canada.
"We just watched the game, on the edge of our seats the whole way through," Trudeau said. "You played amazing. It's a terrible way to lose, in a shootout, but we're with you, we support you, we send you huge hugs."
He added, "Gold in four years!"
President Donald Trump tweeted a video of the hockey team singing the national anthem as the medal-winning countries' flags were hoisted to the rafters. "On behalf of an entire Nation, CONGRATULATIONS to the U.S. Women's Hockey Team on winning the GOLD! #GoTeamUSA #Olympics," he wrote.
Hold your heads high @hc_women. @justintrudeau and all of Canada are very proud. Great game. 🇨🇦❤️@TeamCanadapic.twitter.com/82EUcTTX50

— Hayley Wickenheiser (@wick_22) February 22, 2018
Caught the shootout with @wick_22. @hc_women, you're the pride of this country and you had a fantastic run. Congratulations & we'll see you back on top soon.
🇨🇦@hc_Feminin, notre pays est fier de vous et vous avez été fantastiques. Félicitations. Vous allez vous reprendre. https://t.co/7yK2tPziHx

— Justin Trudeau (@JustinTrudeau) February 22, 2018
On behalf of an entire Nation, CONGRATULATIONS to the U.S. Women's Hockey Team on winning the GOLD! #GoTeamUSA#Olympicspic.twitter.com/3cUZwLVGua

— Donald J. Trump (@realDonaldTrump) February 22, 2018
Team USA is in the middle of a late burst of Olympic victories that has it sneaking up on Canada in the medal rankings, thanks in large part to the women on the team.
Thursday brought the women's hockey gold medal along with gold and silver in men's ski halfpipe (David Wise, Alex Ferreira), silver in the Alpine combined (Mikaela Shiffrin) and silver in the women's big air snowboarding (Jamie Anderson).
The U.S. now has 21 medals at the Olympics, sitting in fourth place in the standings behind Canada's 24.
With just three days of medals left, it'll still be tough for the U.S. to catch up, but it's not impossible. For one thing, the U.S. is guaranteed a medal in curling, while Canada can still miss out on bronze.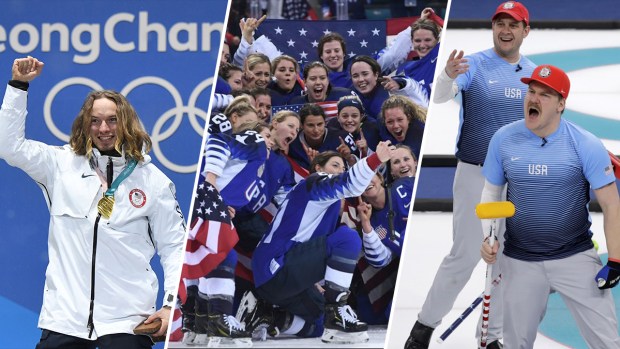 Feb. 22 Olympics Photos: US Wins Hockey, Advances in Curling