Snowboarder Regino Hernandez made a bet with his skiman that if he won a medal at the Pyeongchang Olympics, they would both tattoo their big-bearded faces on each other.
Well, he won.
Hernandez took home bronze in men's snowboard cross Thursday, giving Spain its third-ever winter games medal, and its first since Bianca Fernandez Ochoa took bronze in women's slalom in 1992.
"It's a huge win for Spain and especially for snowboarding," Hernandez said. "It'll be a huge impetus for this sport in our country."
France's Pierre Vaultier Wins Back-to-Back Snowboard Cross Gold Medals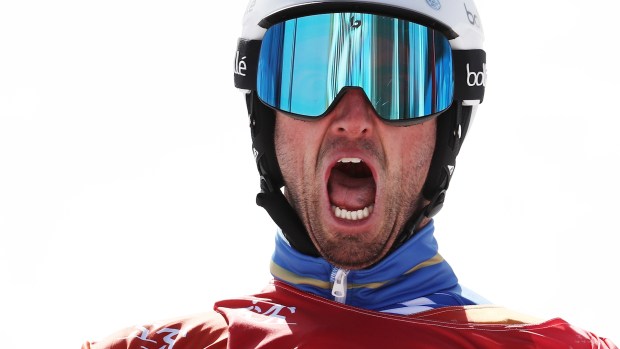 Now he and Luca Trionte, the man in charge of preparing his boards, are getting tattoos.
Hernandez says, "Here, the bets are for life. Nothing like just shaving beards. Beards will grow back."
Hernandez's only concern was where exactly to place his friend's face.
He tells Spanish sports daily Marca: "I will have to find a place that is not too visible. Luckily, I have many tattoos, so I hope it won't get noticed too much."
Fans and fellow Spaniards were excited to see Hernandez represent their country on the podium in Pyeongchang.

Congratulations to Spanish snowboarder Regino Hernández, who has ended a 26-year medal drought at the Winter Olympics after taking bronze at the #PyeongChang Olympic Games https://t.co/5j09M5fqiZ

— Simon Hunter (@simoninmadrid) February 15, 2018
Grande!! https://t.co/DI3Eg4C3Hu

— Miguel A. Ríos (@M_RiosG) February 15, 2018
We thought Javier Fernandez would be going for Spain's first Winter Olympic medal since 1992. Nope. Regino Hernandez grabs surprise snowboard cross bronze behind repeat champ Pierre Vaultier. Americans Baumgartner, Dierdorff 4th and 5th.

— Nick Zaccardi (@nzaccardi) February 15, 2018
Snowboarder #ReginoHernandez wins the first Winter medal in 26 years for Spain while also making history as the first Spaniard to ever reach the podium in snowboard cross https://t.co/SFG6qDRLx5pic.twitter.com/NwdUb31PX6

— EmbajadaEspañaLetonia (@EmbajadaEspRiga) February 15, 2018
Regino Hernandez with a strong contender for #PyeongChang2018's best helmet pic.twitter.com/X4Q69o4T5p

— Brett Pardy (@AntiqueiPod) February 15, 2018
off topic, Spain's Regino Hernandez's helmet makes him look like a cylon from Battlestar Gallactica #ByYourCommand#Olympicspic.twitter.com/booERB9KSL

— Will Graves (@WillGravesAP) February 15, 2018