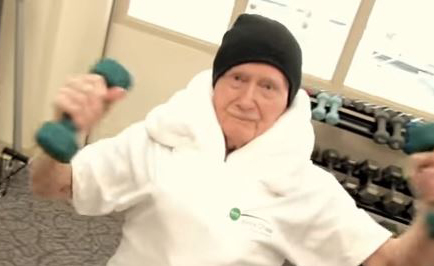 Thousands of athletes descend upon Philadelphia each year for the Penn Relays, and this season, a 94-year-old South Philly native was part of the big event.
George "Scotty" Scott, who now lives at the retirement community Ann's Choice in Warminster, ran along world-renowned athletes in the annual race Saturday.
Scott first took on running when he was 88 years old and has competed in dozens of races, but his love for staying active developed at a young age.
"Basketball will always be my favorite sport," Scott said. "There was always a hoop outside of my home wherever I lived and I always played and that's where my love of fitness came from I suppose. Then it grew into running which I began only a few years ago."
The senior athlete has earned more than a dozen awards over his six years of running and almost matched a world record set by a 90-year-old approximately 10 years ago.
And he plans on competing every chance he gets.
"As long as I can exercise and compete I'll do it," Scott said "I just do the best I can."
The great-grandfather of seven attributes his good health to his active lifestyle and his dedication to keeping in shape.
"Between the basketball and dancing I keep young. I want to prove that I can do anything and I tell everyone to stay active so you can stay fit."