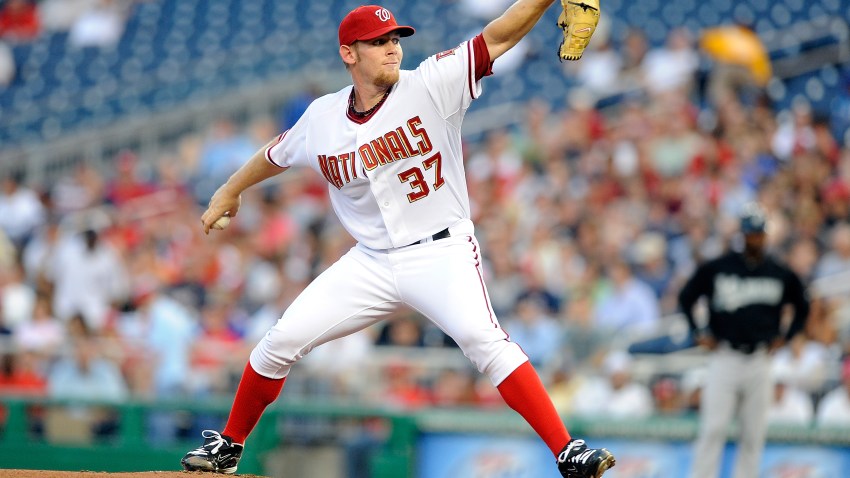 Every day this week, Philthy Stuff will be taking a look at each of the teams in the National League East, as they look to unseat the Philadelphia Phillies. Next up, the Washington Nationals.

On Monday, we lamented (sort of) the fact that the Phillies were without an actual divisional rival that was able to compete on the same level while simultaneously being within driving distance. And since the New York Mets don't appear to be getting back on track anytime soon, that only leaves one other option: the Washington Nationals.
So far, the Nats have been burning a lot of calories trying to declare themselves the chief rival of the Phillies in 2012 (much to the ire and entertainment of Philly fans) by trying to channel their inner Jimmy Rollins, and by, once again, trying to keep the Phillies fans out of their home stadium, they've also been doing something else: getting good.
While the Nats are used to being a stepping stone for the Phillies, 2012 figures to be a little bit different. First, they host one of the better pitching staffs in the National League, which include phenom Stephen Strasburg, RHPs Jordan Zimmermann and Edwin Jackson, and LHPs Gio Gonzalez and John Lannan. While not as talented as the Phillies rotation, the trio of Strasberg, Zimmermann and Gonzalez aren't going to be pushovers.
In the bullpen, they have a bevy of young arms, including incumbent closer Drew Storen, hard-throwers Tyler Clippard and Henry Rodriguez, lefties Tom Gorzelanny and Sean Burnett, as well as former Phillies closer Brad Lidge. It's the kind of mix of young, high-upside arms that can cause a lot of problems for opposing hitters.
On offense, they still have a bit of work to do. While Ryan Zimmerman is one of the best young third basemen in the game, his supporting cast is still a work in progress. SS Ian Desmond and 2B Danny Espinosa are a pair of young middle infielders, but are still developing, while 1B Adam LaRoche can be hit or miss. Behind the plate, however, Wilson Ramos should prove to be an offensive force.

In the outfield, the Nats are led by former Phillie Jayson Werth, who figures to be better than his .718 OPS sustained in his first year in Washington. Michael Morse, who was a revelation in 2011 with a .303 batting average and 31 homers, is in left field, while the speedy, but light hitting Roger Bernadina patrols center.

Their biggest strength, however, lies in wait in the minor leagues, thanks to a strong farm system that is anchored by Bryce Harper, the 19-year-old super prospect who could see time in the big leagues in 2012.

It's not a great team, but the Nationals should cause some problems for the National League for a whole bunch of teams, thanks to a solid pitching staff, along with an offense that can be good enough if everyone can get on the same page.

My Prediction: It's a good time to be a Nationals fan, but 2012 figures to be more of the same. They should creep over the .500 mark for the first time in franchise history, and a third place finish isn't out of the question. But this is the team of the future, not of the present.
Preview: New York Mets