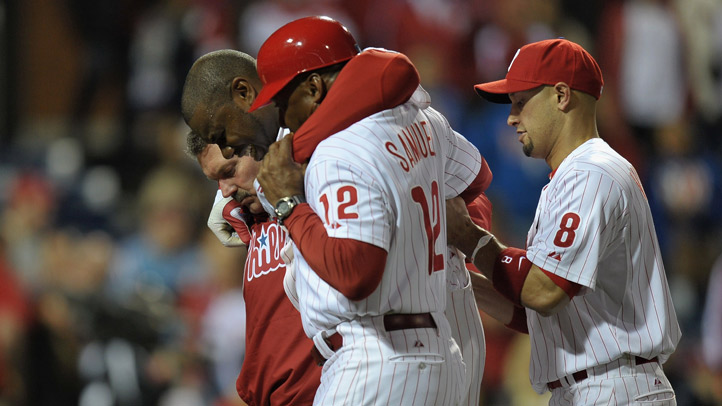 With Opening Day nearly upon us, I thought it fitting to revisit the status of the Phillies roster, specifically, those who are presently injured. I want to determine the significance of their injuries, what exactly it means to the Phillies, if a trip to the disabled list is needed and how it might impact their season in the early goings.

Name: Chase Utley
Position: Second Base
Injury: Chondromalacia in both knees
Severity: Not career-ending, but bad enough that we are likely well past the age of Utley having anything close to the seasons that he had between 2006 and 2010.
Impact: Significant. Without Utley in the lineup, the Phillies lose power, speed, and patience from the three-hole. Freddy Galvis will be the defensive replacement, but his bat (.716 OPS in AA/AAA in 2011) falls far short of Utley's offensive contributions. With his return date still unknown, the Phillies better hope that Galvis can get off to a quick start.
Name: Ryan Howard
Position: First Base
Injury: Torn Achilles
Severity: Whenever something is torn, it's a safe bet that the player is going to miss a good bit of time. Howard was progressing quite well from off-season surgery, but a recent infection in the wound forced him to get shut down indefinitely. A June return is likely.
Impact: Like Utley, Howard is going to be missed in the lineup, as he was the team's only pure power hitter heading into 2012. Without him, the Phillies are forced to plug guys like Ty Wigginton and Jim Thome into the everyday lineup in an attempt to make up for Howard's loss. It remains to be seen how they will perform, but expect them to contribute far less than the 2006 N.L. MVP.
Name: Domonic Brown
Position: Left Field
Injury: Broken Spirit
Severity: The broken spirit, which is the result of numerous instances of mistreatment by the front office, has no set recovery time, as it is dependent on the front office to properly utilize the player at hand. In the case of Dom Brown, who despite being far more valuable than either Laynce Nix or Juan Pierre, the broken spirit will only be healed when he gets called up to the big leagues. For good.
Impact: Nix has a career on-base percentage of less than .300, and stands to get far, far, far more at-bats than Brown. Hooray!
Name: Jose Contreras
Position: Relief Pitcher
Injury: Busted Tendon/Elbow Surgery
Severity: Contreras, who began the 2011 season as the Phillies closer, is expected to start the season on the disabled list, but should not miss too much of the season, and should be back in the 'pen by the end of April.
Impact: Depending on how he performs, it could be a big difference maker for the Phillies. He pitched all of 2-1/3 innings in the spring, so it really remains to be seen how he is going to fare when he takes the hill in games that matter. A healthy, effective Contreras means a deeper bullpen.
Name: Michael Martinez
Position: IF/OF
Injury: Broken Foot
Severity: It could be worse. He'll need six to eight weeks of recovery time, which should put him back on the field in June.
Impact: The versatile Martinez, who can play every position but pitcher and catcher, provided some much needed depth all throughout the field. Although he doesn't give much on offense, he can spell anyone in need of a day off or in case of injury. His absence won't be felt too much, as light-hitting bench players are a dime-a-dozen.
Of the players on this list, only two of them -- Utley and Howard -- stand to have a great amount of impact on the 2012 season, so getting them back in the lineup should stand to be the chief concern of the team.
In truth, just about everyone in the starting lineup is an injury risk, given that most of them missed time last season, including Jimmy Rollins, Shane Victorino, Carlos Ruiz and Placido Polanco. Aside from that, both Polanco and Hunter Pence underwent off-season surgery as a result of sports hernias.
Every team needs to be concerned with the thought of losing players for an extended amount of time, and with the Phillies right on the edge, the last thing they need is to lose someone else. Hopefully, they'll get lucky, and this list will get smaller, not bigger.