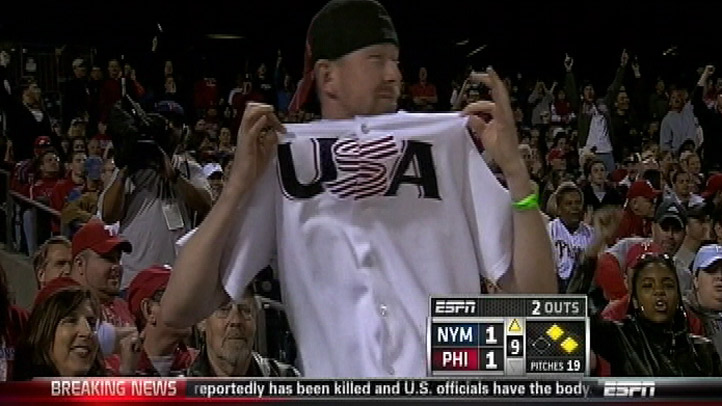 It was one year ago Tuesday that word spread through Citizens Bank Park that Osama bin Laden was dead. The news caused Phillies and Mets fans alike in the ballpark to break out into "U-S-A" chants.
This is our coverage as it appeared on NBC10.com that night.
---
Phillies fans screamed with joy during tonight's Mets and Phillies game.
Amazingly, it had nothing to do with what was happening on the field.
With the explosive news breaking out of Osama Bin Laden's death, many Phils fans apparently caught wind of the major development via their cell phones.
The fans broke into impromptu "U-S-A!" chants at the top of the ninth inning, leaving the players on the field, who don't have the luxury of a computer, TV or phones on hand, utterly confused.
"They didn't realize it until Victorino, I think he came into the video room or something," said Manager Charlie Manuel.
Shane Victorino said he did not break the news to the team, "but I found out what happened. It was buzzing around the dugout that Osama bin Laden had been killed."
It was an awesome moment and the first of what is sure to be many emotional reactions from numerous people of all backgrounds, as the world takes in this incredible news.