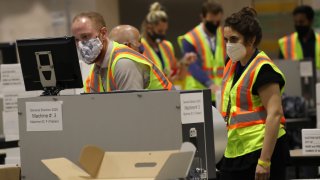 President Donald Trump's campaign says it's suing to temporarily stop the vote count in Pennsylvania, claiming lack of "transparency."
Justin Clark is Trump's deputy campaign manager. He said in a statement Wednesday that the campaign is "suing to stop Democrat election officials from hiding the ballot counting and processing from our Republican poll observers."
Clark also said the campaign would seek to intervene in an ongoing Supreme Court case involving the deadline for receiving mail-in ballots.
There have been no reports of fraud or any type of ballot concerns out of Pennsylvania. The state had 3.1 million mail-in ballots that take time to count and an order allows them to be counted up until Friday if they are postmarked by Nov. 3.
Pennsylvania Attorney General Josh Shapiro said in a CNN interview the lawsuit was "more a political document than a legal document."
"There is transparency in this process. The counting has been going on. There are observers observing this counting, and the counting will continue," he said.
Live Election Results
Source: AP
Decision 2020
The latest news on the 2020 presidential election
Across the country, many of the in-person votes have been counted, but the counting of many mailed ballots is still underway. That's also true in Philadelphia, where a third of the mail-in ballots remain to be counted.
The City Commissioners said the next mail ballot update would come in the early hours of the morning.
Earlier Wednesday, Trump said he'll take the presidential election to the Supreme Court, but it's unclear what he meant in a country in which vote tabulations routinely continue beyond Election Day, and states largely set the rules for when the count has to end.
"We'll be going to the U.S. Supreme Court — we want all voting to stop," Trump told supporters at the White House.
But the voting is over. It's only counting that is taking place across the nation. No state will count absentee votes that are postmarked after Election Day.
Biden's campaign called Trump's statement "outrageous, unprecedented, and incorrect."
This is a developing story. Check back for updates.