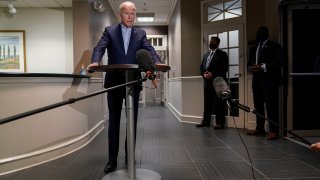 Saying that the health care of millions of Americans, as well as the rights of marginalized groups, are at stake, presidential nominee Joe Biden on Sunday painted in stark terms the potential consequences of another President Donald Trump-appointed Supreme Court justice.
Speaking at the National Constitution Center in Philadelphia, Biden urged Republicans in the Senate to follow the same standard they set in 2016 when they held up the nomination of Merrick Garland for nine months as they argued that the presidential election should be held ahead of a vote for Barack Obama's nominee.
"If they made this their standard when it served their interests, they cannot just four years later change course when it doesn't serve their ends," the former vice president said of Republicans.
The fight for the Supreme Court has become a hot-button issue that could galvanize both parties mere days after the death of Justice Ruth Bader Ginsburg and mere weeks before November's presidential election.
Trump has already filled two Supreme Court seats during his first term, adding conservative justices. He could swing the court further right if he is able to replace the liberal Ginsburg, which he has asked the Republican-led Senate to do "without delay."
But a swing right could throw into question the rights of millions of Americans, Biden warned.
"In the middle of the worst global health crisis in living memory, Donald Trump is before the Supreme Court trying to strip health care coverage away from tens of millions of families," he said, alluding to the COVID-19 pandemic and to Trump's efforts before the high court to overturn the Affordable Care Act, which, among other things, bans insurance companies from denying coverage for people with preexisting health conditions.
Decision 2020
The latest news on the 2020 presidential election
Though Trump has repeatedly claimed that he has "strongly protected pre-existing conditions" while in office, he championed legislation in 2017 to undo the ACA and his administration is currently backing a lawsuit led by Republican attorneys general that would wipe out Obamacare, including its pre-existing condition protections, NBC News reports.
"If he succeeds, insurers can once again discriminate and drop coverage completely for people living with preexisting conditions like asthma, diabetes, cancer and so many others," Biden said. "And perhaps, most cruelly of all, if Donald Trump has his way the complications from COVID-19 … like lung scarring and heart damage could become the next deniable preexisting condition for over 6 million Americans who already contracted the disease."
Biden also warned of the potential for a conservative court to overturn Roe v. Wade, which grants women the right to have an abortion, as well as the danger of "Dreamers," who were brought to the U.S. as children, being deported to their native countries.
Democrats have painted Republicans as hypocrites on the issue of nominating the next Supreme Court justice, given that for nine months they refused to hold a vote on Garland, whom Obama nominated for the court nine months ahead of the 2016 presidential election following the death of conservative justice Antonin Scalia.
Republicans, led by Senate Majority Leader Mitch McConnell, blocked Garland's nomination, arguing that the presidential election should be held ahead of a vote for Obama's nominee.
Now Biden is using the Republicans' same argument as he seeks to win the presidency and himself nominate a new justice to the high court.
"In just a few weeks, all votes of this nation will be heard. They're the ones who the Constitution envisions should decide who has the power to make this appointment," Biden said, adding that Republican efforts to "jam" Trump's nomination through the Senate would be an "exercise of raw political power" that threatens to further divide an already polarized country.
Should he win, Biden said, he will nominate the court's first Black woman.
The former vice president was speaking in battleground Pennsylvania, which Democrats lost in 2016. Trump eked out a narrow win of about 44,000 votes when he beat Hillary Clinton in the state in that year's election. However, the president's approval numbers have suffered in recent months due to his handling of the coronavirus pandemic.
As it stands, Biden leads President Donald Trump nationally among registered voters by 8 percentage points, according to a recent NBC News/Wall Street Journal poll. In 12 combined swing states, including Pennsylvania, the former vice president leads Trump by 6 points.