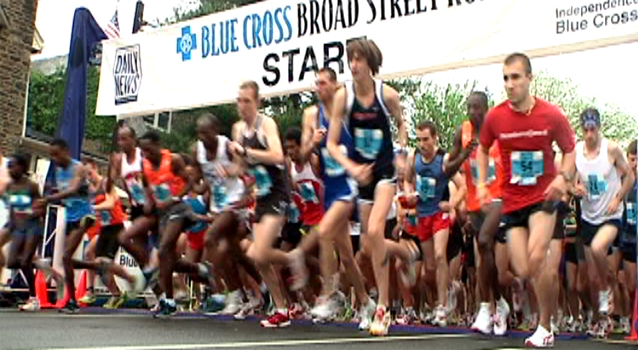 No need to run to your computer when sign up opens for the 2013 Blue Cross Broad Street Run early next month. This year you can walk over, or even forget about it for days, and still get a spot in the popular 10-mile road race on May 5.
After demand for the Broad Street Run caused problems for folks trying to sign up the day registration opened last year -- leaving many upset and without a spot in race -- this year, organizers came up with a new plan.
"The Blue Cross Broad Street Run will be using a lottery system to select our 2013 race participants," race organizers announced last month.
Organizers note the issues last year were instrumental in the change:
The first-come, first-served basis discriminated against individuals who could not access their computers from work. In addition, due to the volume of traffic, most people experienced system issues which caused people to be uncertain if their entry had been accepted or not.
Last year it took just five hours for all the spots in the race to go to the 34,000-plus participants. This year there will be 40,000 spots up for grabs when registration opens at 12:01 a.m. on Monday, Feb. 4. Wannabe participants will then have until Friday, Feb. 15 at 11:59 p.m. to register.
There will only be one entry allowed per person and lists of accepted and rejected runners will be posted on BroadStreetRun.com on Feb. 19 at 10 a.m.
Even if you miss out on the lottery you can still run if you have ran the race at least 10 times since its inception or if you are willing to raise at least $500 for a select group of charities.