Voters fanned out across Pennsylvania, New Jersey and Delaware Tuesday, casting their ballots in races that could change the power balance in Washington, D.C.
Polls close at 8 p.m.
In Philadelphia's 30th Ward, voting started strong. Dozens of people lined up outside the Scottish Rite retirement community when the polls first opened and more than 50 ballots were already cast by 7:30 a.m.
By 10 a.m. more than 200 people had voted at that location. Poll workers said they were excited by the voter enthusiasm.
Across the river in Camden County, one voter told NBC10 that she woke up early to visit her precinct before heading to work in New York.
"From what I hear, this is the most important [election] so I had to come," Natasha Kornegay said.
Another person said people who don't vote, don't have a right to complain about politics.
"I just feel like I have to try to make a change," voter Jeffrey Lyons said.
And others were just excited to make their voices heard.
"I'm excited to vote and, hopefully, make a big difference," Camden voter Luz Lyons said. Steady Stream of Voters in Camden
Here's a look at some essential resources to help you on the big day.
WHAT ARE THE RACES TO WATCH?
From an incumbent twice-acquitted of fraud to a historic number of women running in hopes of changing the gender balance in Congress, there are several races that we'll be watching closely throughout the day. We've broken them all down by district in our special politics section. Click here to explore.
Long Line at Delaware County Polling Place
HOW TO FIND YOUR POLLING PLACE
If you prefer to cast your ballot in person, you have just one option: your designated polling place. If you don't know where that is, enter your address below to find it and other information you'll need on Election Day (For those utilizing the tool on mobile, please click HERE) —
For a full sample ballot, be sure to visit your local election authority's website.
WHY WE VOTE: A SPECIAL PROJECT
NBC Owned Television Stations asked voters why they are or aren't inspired to vote in the 2018 midterm elections. See the responses.
WHO ARE THE CANDIDATES FOR GOVERNOR?
There are two candidates running for Pennsylvania governor: incumbent Democratic Gov. Tom Wolf and Republican challenger Scott Wagner. Click here to read a profile of each of them, and here for a rundown of where they stand on the issues.
WHO ARE THE CANDIDATES FOR U.S. SENATE?
There are two candidates running for Senate in both Pennsylvania and New Jersey: incumbent Democrat Bob Casey Jr. and Republican challenger Lou Barletta and incumbent Democrat Bob Menendez and Republican challenger Bob Hugin, respectively.
WHAT TIME POLLS ARE OPEN
Voters Get Early Start in New Jersey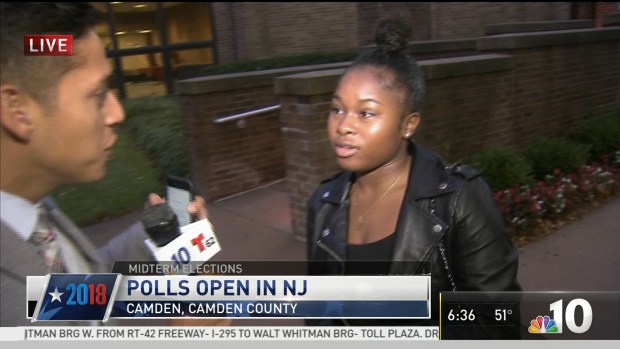 Polls opened at 6 a.m. in New Jersey and 7 a.m. in Pennsylvania and Delaware, and will stay open through 8 p.m. in all three states. But remember - if you are IN LINE when polls close, you can still vote! So if you're rushing to your polling place at the last minute, don't worry if you see a line - and don't let anyone try to dissuade you from casting your ballot.
NBC10 First Alert Weather: Avoiding Storms on Election Day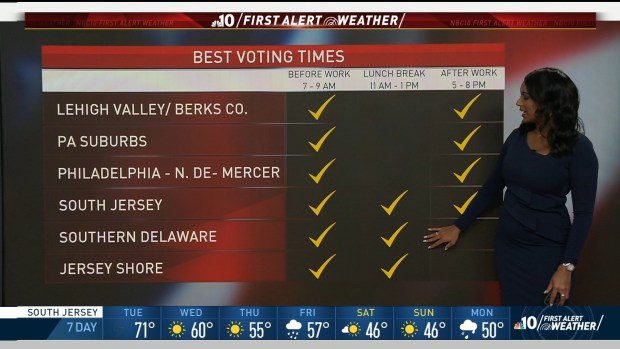 WHAT TO DO IF YOU RUN INTO PROBLEMS
While millions of people will cast their ballots without any problems, some may be challenged on their voting eligibility, experience voter intimidation, or have trouble at their polling place.
New Jersey: Any person who believes his or her right to vote has been interfered with, or who wishes to report other voting-related problems or concerns, can call the state's Voter Information and Assistance line toll-free at 1-877-NJVOTER. Members of the public also can direct election-related questions to their County Superintendent of Elections and county Board of Elections. A list of county-level election office contacts, as well as other useful elections-related information, can be found on the New Jersey Division of Elections web site.
Ready to Vote? NBC10 Has the Info You Need
Pennsylvania: Call the voter hotline at 1-877-VOTESPA (1-877-868-3772). For election-related scams, call the Office of Attorney General's Bureau of Consumer Protection at (800)441-2555 or file a complaint online.
Philadelphia: 85 staffers from the District Attorney's office will provide all-day responses to callers at (215)686-9641. Officials will respond to voter intimidation complaints, illegal ballot help and electioneering at polling places.
Nation Prepares for Midterm Elections
TRACKING VOTER FRAUD: AN INVESTIGATIVE PROJECT
NBC10 is partnering with ProPublica, and their project called Electionland, to chart and respond to Election Day voter problems. Click here for more details.
HOW TO GET LIVE RESULTS
Live Election Day coverage will air on NBC10 throughout the evening and at 11 p.m. with an hourlong special news broadcast. WATCH the livestream HERE. You can also track up-the-minute race results live in the NBC Philadelphia app - where you can turn on notifications to get alerts on winners of the biggest races - and right here on NBCPhiladelphia.com.