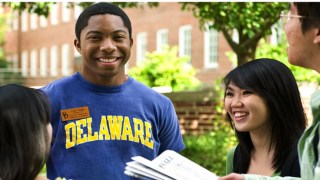 A committee searching for the next president of the University of Delaware says its goal is to recommend a list of candidates to the Board of Trustees in the early winter.
Meanwhile, new students started checking in to residence halls on Saturday and returning students started arriving Sunday. Check in continues on Monday starting at 11 a.m. and lasts until 3 p.m.
While the school may be without a president for the next few months, the school's 17,000 undergraduates and 3,600 graduate students don't have too long to get their housing in order. Classes at the university begin at 8 a.m. Tuesday.
In a letter to the university committee sent last week, the search committee says it has reviewed materials for over 50 candidates and has identified a group that will be invited for confidential interviews.
The school's previous president, Patrick T. Harker, announced in March that he was stepping down as of July 1 to become the president and chief executive officer of the Federal Reserve Bank of Philadelphia. Harker had led the school for eight years.
The school's interim president is Nancy M. Targett, the Dean of the College of Earth, Ocean, and Environment.
Published at 9:52 AM EDT on Aug 31, 2015 | Updated at 6:45 AM EDT on Sep 1, 2015