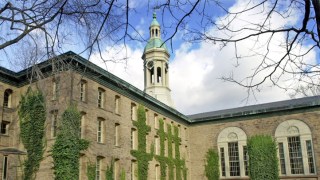 Rutgers University's president says he's embarrassed after Princeton University's cannon was painted red and another statue was vandalized.
Rutgers and the Ivy League school have feuded over ownership of the cannon since 1777 and Rutgers students have been painting it red for decades.
Princeton spokesman Martin Mbugua told NJ.com campus security discovered the cannon was painted red early Tuesday. Mbugua also said Princeton's tiger statue near Nassau Hall was also vandalized with graffiti and expletives directed at Princeton and Pennsylvania State University.
No suspect has been identified.
Rutgers President Robert Barchi wrote Princeton's president that his school would be "deeply embarrassed and diminished" if the graffiti was the work of its students. Barchi offered to send students to help clean the cannon.
"Both of us know of the long history of student mischief between our institutions," Barchi said. "While we at Rutgers are happy to enjoy a friendly rivalry with Princeton, we do not condone the childish and lawbreaking behavior of whoever did this to your campus."
The rich history of the feud was the subject of a 2012 documentary titled "Knights, Tigers and Cannons. Oh My!"
"Tradition is important," said Zack Morrison, the film's creator and Rutgers alum. "If we don't remember and respect the things that define who we are, then we'll have nothing to set us apart from the thousand other colleges in this country."
Princeton repainted the cannon by Wednesday.