What to Know
Many Pennsylvanians voted in new districts after the state supreme court redrew the congressional map this spring.

A historic number of women ran for Pennsylvania's open seats.

In New Jersey, 12 House seats were up for grabs.
Incumbent U.S. Rep. Brian Fitzpatrick is projected to hold onto his seat representing Bucks County in Pennsylvania in what turned out to be a very close, very expensive race.
Fitzpatrick, who represents the First Congressional District, portrayed himself as a moderate Republican willing to buck his conservative colleagues as well as President Donald Trump. But critics pointed to his harsh attack ads that labeled Democratic challenger Scott Wallace as an liberal extremist.
In the end, the candidates and outside PACs spent about $26 million.
Fitzpatrick will find a very different Pennsylvania congressional delegation when he heads to Washington in January. In particular, a women's wave of Democrats swept through the Philly suburbs as four first-time female candidates won seats.
In South Jersey, state Sen. Jeff Van Drew won a surprisingly close race against Republican former Atlantic City Councilman Seth Grossman in the race to succeed retiring U.S. Rep. Frank Lobiondo.
Voters in Pennsylvania, New Jersey and Delaware filled a total of 31 congressional seats by night's end, with only one remaining too close to call, according to tallies by NBC News.
Incumbent Rep. Tom MacArthur, of New Jersey's Third Congressional District, was about 2,315 votes ahead of Democratic challenger Andy Kim with nearly 99 percent of precincts reported as of Wednesday morning.
New Jersey's 3rd Congressional District Too Close to Call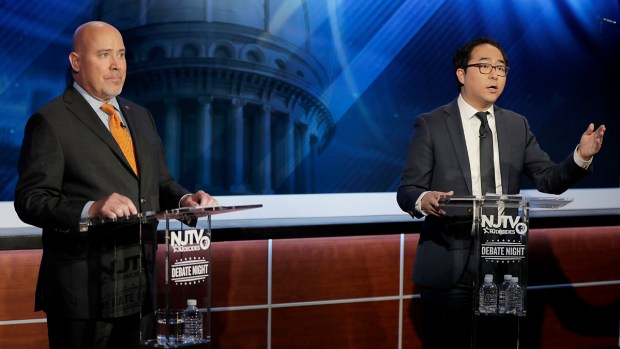 In other races around the region:
In Pennsylvania's 2nd Congressional District, Democratic incumbent Rep. Brendan Boyle swamped contender David Torres. Torres, who had entered the race only 10 days before the nominating petitions were due, was fueled by a desire to combat the city's opioid crisis, which had claimed the life of his son.
But the area is overwhelmingly Democratic, and Boyle won with about 80 percent of the vote.
In the state's 3rd Congressional District, longtime Democratic Philadelphia politician Dwight Evans beat challenger Bryan Leib. Evans was elected to his second term in Congress.
In New Jersey, incumbent Rep. Donald Norcross, a Democrat, was re-elected to the state's 1st Congressional District. Republican incumbent Rep. Chris Smith beat Joshua Welle in New Jersey's 4th Congressional District, in the middle of the state.
And Democratic incumbent Rep. Bonnie Watson Coleman beat Republican Daryl Kipnis in New Jersey's 12th district, which includes Princeton. Coleman is among a wave of women elected or re-elected from Philadelphia's suburbs on Tuesday.