The candidates in Pennsylvania's down-to-the-wire U.S. Senate race are crisscrossing the state on the last day of campaigning before the election.
Republican U.S. Sen. Pat Toomey is flying around the state Monday, starting his day in Philadelphia before stops in Wilkes-Barre, Harrisburg, Johnstown and Pittsburgh before a nighttime rally in Bethlehem, near his Allentown-area home.
Great first event of the day in Philadelphia! Looking forward to seeing everyone at the rest of our events across the state today! pic.twitter.com/tigHBcFaEy

— Pat Toomey (@PatToomey) November 7, 2016
Democrat Katie McGinty is speaking at Monday rallies for party presidential nominee Hillary Clinton at the University of Pittsburgh and on Philadelphia's Independence Mall. The Obamas and rockers Bruce Springsteen and Jon Bon Jovi also will be at Independence Mall.
At the University of Pittsburgh getting out the vote with @HillaryClinton, Katie, "College needs to be affordable. That's on the ballot!" pic.twitter.com/9uPHD6dgN1

— Katie McGinty (@KatieMcGintyPA) November 7, 2016
The Toomey-McGinty contest could determine whether Republicans keep their Senate majority. The too-close-to-call race is the nation's most expensive Senate campaign ever.
Republican presidential nominee Donald Trump will hold an evening rally at Scranton's Lackawanna College. Toomey hasn't campaigned with Trump or said whether he'll vote for him.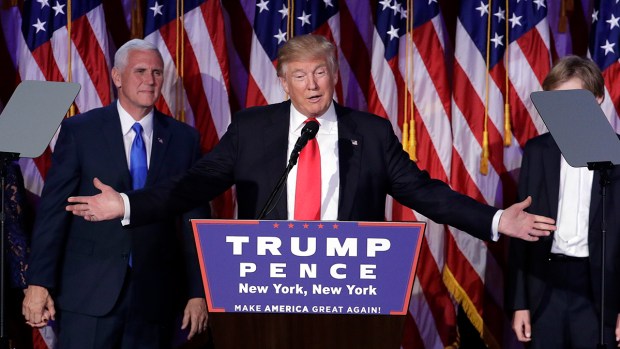 Highlights From the 2016 Campaign Trail