First lady Michelle Obama warned against voting for someone who "has no chance to win" the presidential election, calling a vote for third-party candidates "a vote for Hillary's opponent."
Speaking at a rally at La Salle University's Tom Gola Arena in Philadelphia, the first lady also said that Americans who don't vote at all, risk putting Donald Trump in the White House.
Michelle Obama Pushes for Millennial Voters in Philadelphia to Choose Hillary Clinton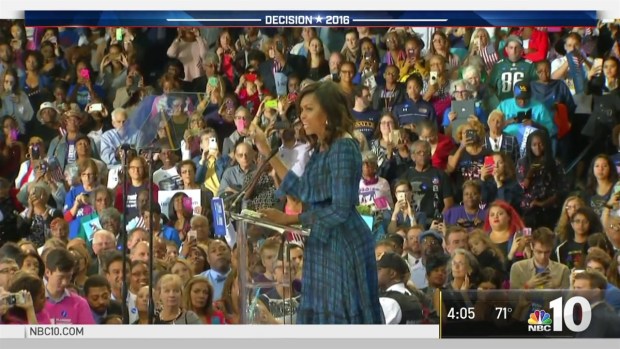 "Elections aren't just about who votes, it's also about who doesn't vote," Obama said. Phily Students Flock to See Michelle Obama Speak
She never mentioned Trump by name during her nearly 30-minute speech, but criticized "Clinton's opponent" for his attack on women, immigrants, as well as the Republican nominee's temperament.
"We need someone who is steady and measured because when making life or death, war or peace decisions, a president just can't pop off or lash out irrationally. We need an adult in the White House," Obama said, noting that when Clinton "gets knocked down, she doesn't complain. She doesn't cry foul." Michelle Obama Comes to La Salle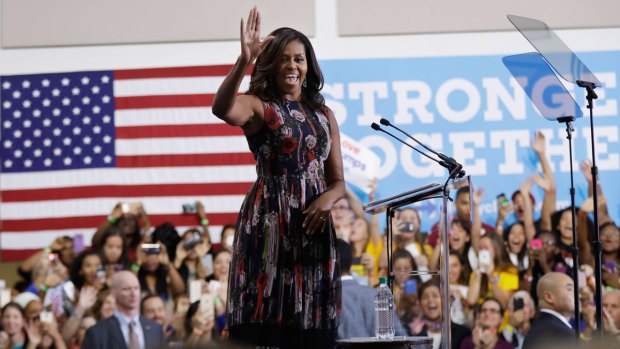 Gary Johnson, the Libertarian candidate for president, was asked at an MSNBC town hall about people who say a vote for a third-party candidate is a wasted vote.
"A wasted vote is a vote for someone who you don't believe in," he said.
Obama's speech in Pennsylvania came a day after Vice President Joe Biden held a voter registration rally at Philly's Drexel University.
Later Wednesday, Obama appeared at a rally for the Democratic presidential nominee at the University of Pittsburgh. She cast Clinton as a tough, compassionate fighter who doesn't back down and who loves her country.
"Experience matters, preparation matters, temperament matters," she said. "Hillary Clinton has it all. She's the real deal."
She told the crowd in Pittsburgh she understands some voters are uninspired this year, but this election is too important not to vote.
"Either Hillary Clinton or her opponent will be the next president this year. The stakes are too high to take that chance" by not voting or casting a protest vote for someone else, she said. "It isn't about voting for the perfect candidate. There's no such thing."
Trump's campaign reacted to Obama's speech with a statement saying Clinton is in "panic mode" in Pennsylvania because polls show the Republican presidential nominee surging in the battleground state.