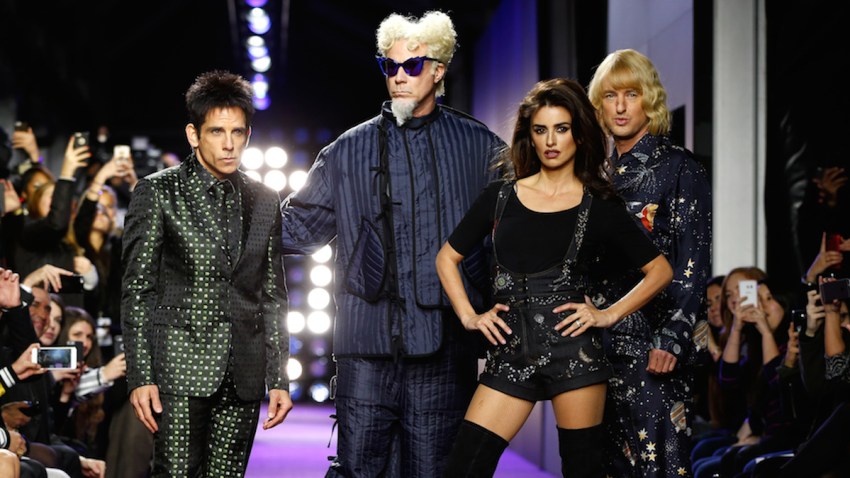 It almost seems folly to write about "Zoolander No. 2" and the comeback of aging, dim-witted, evil-fighting supermodels Derek Zoolander and Hansel when there's only one journalist who can do their story justice: 1970s TV newsman Ron Burgundy, of "Anchorman" fame.
The "Zoolander" and "Anchorman" characters, separated by little more than time, inhabit the same comedic universe of buffoonish and cartoonish public figures in movies that celebrate the silly. The comedies also share cast members: "Anchorman" star Will Ferrell reprises his role as the models' nemesis, Mugatu, in the new flick, due out Friday. "Zoolander" headliner Ben Stiller showed up as a combative rival newsman in the original 2005 "Anchorman."
But the strongest link comes in the approach to promoting long-gestating sequels by springing surprise in-character public appearances. The latest "Zoolander" will test whether the "Anchorman" campaign model works – or whether it's time to write, as Derek Zoolander might put it, the franchise's "eugoogally."
U.S. & World
Stories that affect your life across the U.S. and around the world.
Building expectations for sequels to long-dormant fan favorites, as George Lucas can attest, is a risky business. Credit Ferrell with embracing overexposure from moment he resurrected Burgundy with a jazz flute spectacular on "Conan" in 2012. In the weeks before the film's debut the following year, Ferrell turned up as his plaid-clad alter ego on everything from real newscasts to car commercials.
Stiller and co-star Owen Wilson followed a similar script, strutting across a Parisian runway for Valentino to announce their return as Derek and Hansel. They later posed as mannequins in Valentino's Rome store, and Derek even made the cover of Vogue.
"Anchorman 2" scored with fans beyond the publicity stunts. Ferrell and creative partner Adam McKay injected the movie with a deeper level of satire that the first outing, by suggesting cable TV news craziness started with the advent of televised police chases.
"Zoolander No. 2" appears set to dive past the skin-deep by tackling the cult of self-absorbed celebrities with around-the-clock multimedia followings, 15 years after the original film's pre-Twitter debut. Last week, Stiller and Co. lampooned digital narcissism by showing up at the London premiere of "Zoolander No. 2" with a record-long selfie stick.
The stick stretched 28 feet, making it hard to handle. But it may prove more difficult to match the heights of the original "Zoolander," which turned Blue Steel into gold. Whether or not Derek and Hansel are ready, it's time for their close-up. Ron Burgundy – and the rest of their fans – will be watching.
Jere Hester is Director of News Products and Projects at the City University of New York Graduate School of Journalism. He is also the author of "Raising a Beatle Baby: How John, Paul, George and Ringo Helped us Come Together as a Family." Follow him on Twitter.
Copyright FREEL - NBC Local Media