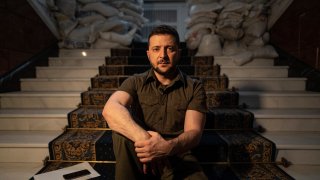 Ukrainian President Volodymyr Zelenskyy thanked the leaders of Britain and Austria for their visits to Kyiv on Saturday and pledges of further support.
In his daily late-night video address to the nation, Zelenskyy also thanked European Commission President Ursula von der Leyen and Prime Minister Justin Trudeau for a global fundraising event that raised more than 10 billion euros ($11 billion) for Ukrainians who have had to flee their homes.
Zelenskyy said democratic countries were united in working to stop the war. British Prime Minister Boris Johnson and Austrian Chancellor Karl Nehammer became the latest of several European rulers to meet Zelenskky in Kyiv.
More Russia-Ukraine War Coverage
"Because Russian aggression was not intended to be limited to Ukraine alone, to the destruction only of our freedom and our life," he said. "The entire European project is a target for Russia."
Zelenskyy repeated his call for a complete embargo on Russian oil and gas, calling them the sources of Russia's "self-confidence and impunity."
"But Ukraine does not have time to wait. Freedom does not have time to wait. When tyranny begins its aggression against everything that keeps the peace in Europe, action must be taken immediately," he said.
He added: "And an oil embargo must be the first step. Moreover, by all democratic states, the entire civilized world. Then Russia will feel it. Then it will be an argument for them to seek peace, to stop the senseless violence."
This is a live update. Click here for complete coverage of the crisis in Ukraine.
Copyright AP - Associated Press