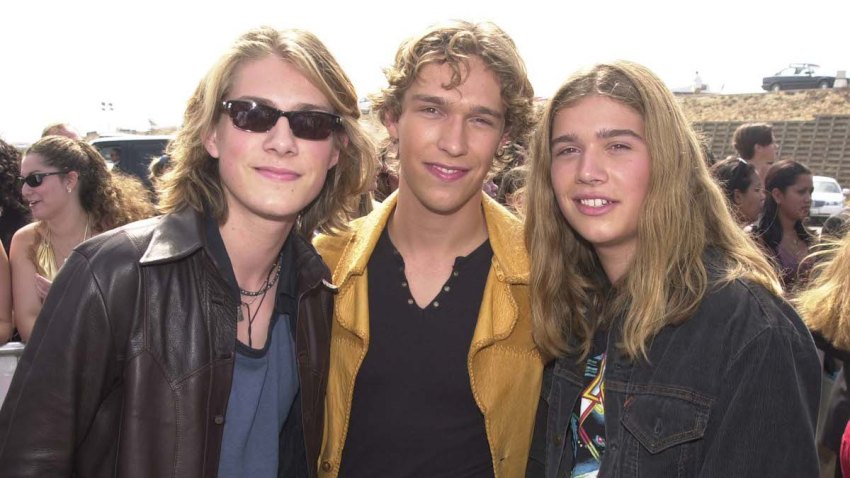 It's 1996. Everyone is doing the Macerena. Mel Gibson is wearing a kilt in "Braveheart," and "ER" is the only show that matters on TV. It was a glorious time. Need more proof?
1996 was also the year the iconic hit song "MMMBop" was recorded by the brother trio Hanson. And please don't tell us you've never heard of Hanson; just Google it and embrace the nostalgia.
To celebrate the 20th anniversary of that catchy song, Vulture interviewed Taylor, Isaac and Zac Hanson to talk about its legacy. Two very important things came out of this interview. First, there was the reminder that the members of this '90s boy band are all full-grown, married men with many children. So we're all officially old. And second, apparently we've been singing "MMMBop" wrong this entire time.
U.S. & World
Stories that affect your life across the U.S. and around the world.
When Vulture asked the guys if they've heard any good covers of their song, they said no because evidently, everybody performs it incorrectly.
"You know why? People can't sing the chorus right," Isaac said. "Most of the time they syncopate it wrong."
Here are the chorus lyrics for "MMMBop":
Mmmbop, ba duba dop
Ba du bop, ba duba dop
Ba du bop, ba duba dop
Ba du, yeah
Mmmbop, ba duba dop
Ba du bop, ba du dop
Ba du bop, ba du dop
Ba du, yeah
It's not that the brothers don't want someone to cover their song; quite the opposite, actually. They are desperate for someone to do it right.
"Someone needs to either make it totally their own in a genuinely unique way, or it needs to be a band that has a sensibility for old R&B," said Taylor. "Fitz and the Tantrums could maybe do it."
Issac added: "If Bruno Mars were interested, he'd probably find a way to kill it."
So there you go. If you've ever jammed out to "MMMBop" at the top of your lungs, you probably at least messed up the chorus. Gotta get those beats right.
And if you're confused about the 20th celebration date, the original version of the tune was recorded before the band was signed and is a much slower take on the song. It got amped up once producers got their hands on it. Here's the original: [[373369821,C]]
On a related note, as mentioned in the Vulture article, "MMMBop" actually has a pretty dark message. We were all just fooled by the fun, upbeat delivery and the lush blonde locks of the Hanson brothers. Here are some sample lyrics:
"You have so many relationships in this life/ only one or two will last/ you go through all the pain and strife/ then you turn your back and they're gone so fast"
"So hold on the ones who really care/ in the end they'll be the only ones there/ and when you get old and start losing your hair/ can you tell me who will still care?"
A sad message and we've been singing it wrong? Our whole '90s childhood is a lie! [[238904721,C]]
PHOTOS: '90s guy crushes you totally forgot about
PHOTOS: The most awesome music, fashion, celebs and more from the '90s
Copyright E! Online