EDITOR'S NOTE: A 28-year-old man has been charged with murder in Bianca Roberson's road rage killing. Tap here for the latest coverage.
---
A manhunt for the driver who shot a recent high school graduate in the head, killing her, in an apparent road rage incident, entered its third day Saturday, but without any arrests yet.
The dragnet stretched across Pennsylvania and all the way west into Texas, investigators said Friday. Closer to Chester County, in Philadelphia, a police spokeswoman said they had received tips from the public. But the city said leads had yet to pan out.
Police released a sketch of the suspect who shot recent high school graduate Bianca Nikol Roberson in West Goshen Township Wednesday. The driver of the pickup truck is described as a medium-built, white male, 30 to 40 years old with blonde or light-colored brown hair. His vehicle is described as a small, red pickup truck with faded paint.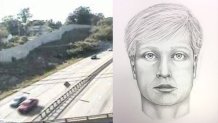 The description is based on an eyewitness account provided by a motorist who was driving adjacent to the pickup truck, investigators said. Officials believe their sketch to be 70 to 80 percent accurate. On Saturday, West Goshen Police released more surveillance photos and a video of the suspect's vehicle. They say the vehicle was last seen heading south on Route 352 into Delaware County.

"This homicide was completely senseless, brutal and tragic," West Goshen Township Police Chief Joseph Gleason said during a news conference Friday.
Anyone with information is asked to call West Goshen police. A $5,000 reward is being offered by the Pennsylvania Crime Stoppers.
"It's all so surreal," Roberson's mother, Michelle Roberson, told NBC10. "How can you just shoot a baby, an 18-year-old girl, on her way to college and then just speed off like it was nothing? She didn't deserve to die like this."
[[431859203, C]]
Roberson, of West Chester, Pennsylvania, was driving south on Route 100 at about 5:30 p.m. when she and another driver tried to merge into a single lane, authorities said.
"And then she was shot. The man in the red pickup truck shot her directly in the head," Chester County District Attorney Tom Hogan said Thursday.
Her car veered off the road and was later found in a ditch, he said. The shooter fled the scene toward Route 202 and was last seen turning on to Paoli Pike.
She was returning home from a shopping trip, her father told NBC10.
"To that man who fired that shot, turn yourself in now," Hogan said. "Every second you are out there you are only making this worse for yourself and making this worse for this young lady's family."
U.S. & World
Stories that affect your life across the U.S. and around the world.
Roberson had just graduated from Rustin High School in West Chester and was headed to Jacksonville University in Florida in the fall. She hoped to major in criminal justice, her mother said.
"A young lady in the prime of her life getting ready to go off to college," Gleason said. "Now the family has to consider burying her."
Roberson's father, Rodney Roberson, was in tears as he spoke to NBC10 about his daughter's college aspirations.
"We were all excited for her," he said. "She was excited. We were just happy for her."
Roberson's brother Dontae Arburg described his sister's cheerful personality.
"Her personality was very loved," Arburg said. "She always smiled. Always wanted to entertain and make you smile."

Counselors were at Rustin High School for students Friday morning.
"All of us in the West Chester Area School District are deeply shocked and saddened by this horrible news," a spokesperson for the West Chester Area School District wrote. "Bianca had her whole life ahead of her. What should be a time of great joy and celebration in a young person's life has turned into a horrible tragedy."
Roberson's older brother died of heart disease at the age of 22 in 2013. Roberson's family members showed NBC10 a poster of her and her brother that she had made for what would have been her college dorm at Jacksonville University.
"It's an angel that's gonna be missed," Bianca's aunt, Mari Hatton-Hayes said. "But as hard as it is, she's there with her brother."
A GoFundMe page set up Thursday garnered donations from more than 350 people within 24 hours. The goal of $15,000 was surpassed by 2 p.m. Friday. On Saturday, the goal was increased to $25,000 and it too was surpassed by 11 a.m.
"We cannot begin to express our extreme gratitude for the donations that continue to come in. As we continue communicating with Bianca's family, we will discuss ideas such as a scholarship being created out of some money earned in this gofundme," the GoFundMe creator wrote. "As many have heard, this story has taken a very unexpected turn and the family is going through an unimaginable time, so please keep them in your thoughts (and) prayers at this time."
Anyone with any information is asked to contact the West Goshen Police Department 610-696-7400 or trafficsafety@westgoshen.org.
Reporters Rosemary Connors, David Chang, Brian X. McCrone and Alicia Lozano contributed to this report.