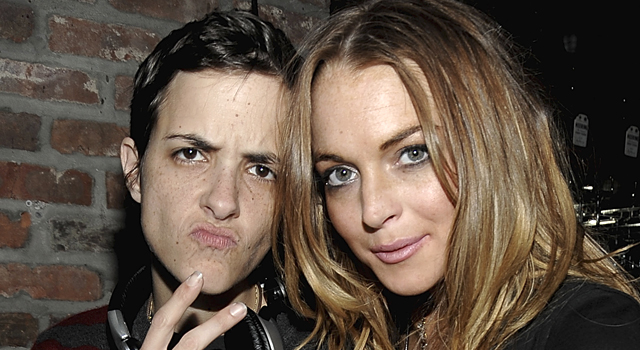 LOS ANGELES -- In case you were breathlessly awaiting Lindsay Lohan's appearance in a Beverly Hills courtroom on Monday morning, relax. Her attorney says the 22-year-old actress will not be there.
A warrant was issued for Lohan's arrest on Friday. A source told Access Hollywood on Sunday that it was issued in response to a recent trip to Las Vegas.
The source said Lindsay drove to Vegas, following girlfriend Samantha Ronson to one of her DJ gigs, and was photographed partying. Lohan is on a restricted license and is supposed to drive only for work, the source said.
U.S. & World
Stories that affect your life across the U.S. and around the world.
Earlier, TMZ reported that Monday's hearing is to address an allegation that Lohan failed to satisfy the terms of her probation from drunken driving arrests in 2007.
Attorney Shawn Chapman Holley says the arrest warrant for the former child actress resulted from a mix-up and can be easily fixed. Holley told "Extra" that Lohan "has been in compliance with all the terms and conditions of her probation and all orders of the court."
Lohan supposedly told celebrity blogger Perez Hilton the warrant was bogus.
"This warrant for my arrest is completely fabricated and it's a horrible lie," she was quoted as saying. "This will make me lose every single deal that I have right now. It's horrible."
News of the arrest warrant caused a paparazzi scene outside the Hollywood Hills home of Lohan's girlfriend, Samantha Ronson, where Lohan was staying over the weekend.
According to People, Lohan had dinner with friends at the Chateau Marmont in West Hollywood around 8 p.m. Friday, and around 1:45 a.m. Saturday she and her friends went to Jack Nicholson's house on Mulholland Drive.

Witnesses told People that Lohan buzzed the intercom repeatedly and the group was finally let in. She stayed there until her bodyguard picked her up about 4:30 a.m. Saturday, People reported.

On May 26, 2007, Lohan crashed a Mercedes-Benz SL65 into a hedge along Sunset Boulevard near Foothill Road about 5:15 a.m. that morning. A bodyguard drove her away from the scene, but she was later charged with drunken driving.

After undergoing treatment for alcoholism at Promises in Malibu, she was arrested again in Santa Monica on July 24.

She pleaded guilty to two misdemeanor counts of being under the influence of cocaine and pleaded no contest to driving with a blood-alcohol level above .08 percent and reckless driving.

Under the terms of a plea deal, she was put on 36-months probation, given 24 hours in jail, ordered to complete an 18-month alcohol education program and to do 10 days of community service.

The actress served 84 minutes in the Lynwood jail as part of her plea deal and was ordered to undergo alcohol and drug rehab as a condition of her probation.

Before the two arrests, Lohan also underwent treatment at the Wonderland Center in Laurel Canyon in January 2007 at the recommendation of her therapist, she told Allure magazine.