What to Know
The suspect, Keenan Jones, allegedly opened fire inside the Cedarbrook Plaza Walmart store Tuesday night then led officers on a chase.
Jones also allegedly fought responding Philly officers after fleeing the scene with a woman and crashing into a police car.
All of eight victims of the shooting and fight suffered non-life threatening injuries, police said. Two suspects were taken into custody.
An argument inside a crowded suburban Philadelphia Walmart escalated into a shooting, crash and fight with responding officers that left five people shot and others wounded in the "chaos" of gunfire.
The alleged gunman was identified Wednesday as Keenan Jones of Philadelphia. He faces one count of attempted murder, 13 counts of aggravated assault, 19 counts of reckless endangerment and related gun charges. He was held on $1 million bail.
The shooting began shortly after 6 p.m. Tuesday inside the Walmart at Cedarbrook Plaza Shopping Center on South Easton Road in Wyncote. An argument near the checkout line allegedly pre-empted the shooting, police said.
"Words were exchanged" and the suspect pulled a gun from his female companion's waistband and fired "at least 10 shots," Cheltenham Township Chief of Police John Frye said.

Jones, 30, and the woman are brother and sister, the Montgomery County District Attorney's office said. She has not been identified or charged.
Photos: 'Chaos' of Gunfire and Police Pursuit During Suburban Philadelphia Walmart Shooting
Two women in their 40s and a man in his 40s were wounded in the legs and another person had a graze wound to the leg. A fifth person later went to a hospital with unspecified injuries caused by gunfire. In addition, a pregnant woman was taken to the hospital after a fall, police said.
None of the injuries are life-threatening, officials said. Two of the victims are Walmart employees, the company said.
U.S. & World
Stories that affect your life across the U.S. and around the world.
"The surveillance depicts Jones standing in the check-out line and then starting to walk towards the back of the line when he pulls out a black semi-automatic handgun and fires a single round at a male who is standing only feet away, striking him," the criminal complaint filed Wednesday read. "Jones then begins to run through the front end of the store and is seen firing additional rounds indiscriminately."
The complaint described the scene captured on the surveillance video as "chaos" and "pandemonium," which led to a pregnant woman falling to the ground. She was hurt, the complaint said.
Customers and employees inside the store ducked for cover as bullets flew near the checkout line.
"It was rough just seeing everybody running for cover," a woman who said she was next to the gunman, told NBC10. "People were terrified. They were jumping over the register."

Jones and his sister fled the Walmart in a Pontiac Grand Prix, police said.
"He kept straight coming down," according to a witness, who said she was nearly struck by the vehicle. "He didn't stop."
After allegedly tossing the gun out of the car, Jones and his sister crashed into the back of an empty police vehicle at Forrest Avenue and East Sedgwick Street in neighboring Philadelphia, according to investigators.
"The officers just got done taking a theft report and saw the vehicle crash into a police vehicle, thinking it was just an auto accident," Philadelphia Police Chief Inspector Scott Small said.

The two tried to flee the scene after the crash, but were taken into custody by responding officers, police said. A witness told NBC10 that Jones resisted arrest and it took several officers to apprehend him and place him inside a police vehicle.
While inside the vehicle, Jones allegedly tried to kick out the window. He also managed to bring his cuffed hands in front of him and attack officers, according to police. Police then used a Taser to subdue him.

Police said Jones appeared to be either high on narcotics, intoxicated or both. Both he and his sister were taken to the hospital.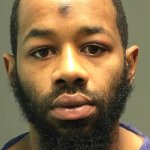 Two officers also suffered minor injuries during the fight with Jones, police said.
Frye called the shooting a "very dangerous situation," given that it was a "very crowded Walmart, a lot of shots were low, the floor is hard ... there's a risk of ricochet." Reports from the hospital, he said, indicate that the suspected shooter was "definitely on some type of drugs."

Jones's weapon was recovered on the 8300 block of Cheltenham Avenue, according to investigators.
In court Wednesday morning, Jones apologized and said "I don't know what the hell I did," reported NBC10's Drew Smith. Jones also claimed he hadn't slept in five days.
A total of 22 police departments from Montgomery County and Philadelphia responded to the Walmart. A SWAT team went inside to clear the building. Investigators remained inside the store overnight. By Wednesday morning, workers were back in the store which reopened later during the day.

"We are relieved that an arrest has been made and thankful that injuries sustained by two of our associates and a customer are non-life threatening," Walmart spokesperson Casey Stahli said. "Local authorities acted quickly and did an outstanding job. Our focus remains on supporting our associates and continuing to assist law enforcement."
Copyright AP - Associated Press