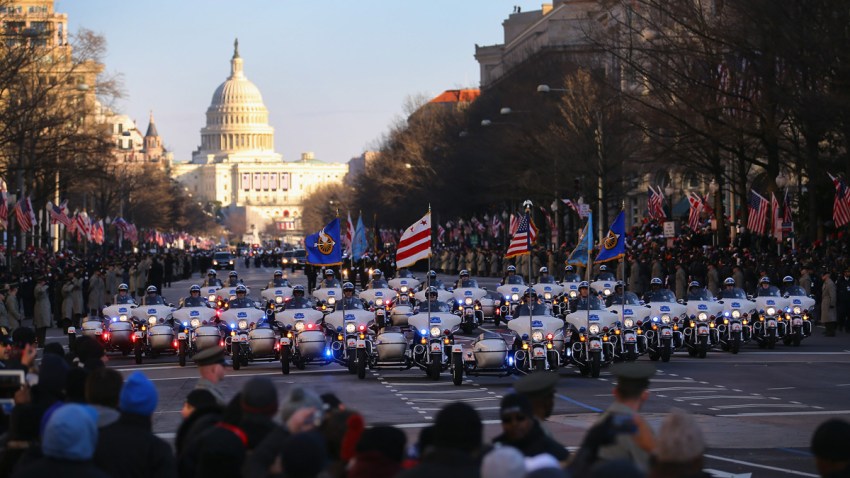 Here's who is expected to march in President-elect Donald Trump's Inaugural Parade -- and the expected order.
Remember, though, inaugural parades can be subject to change. (This one has already changed several times.)
FIRST DIVISION
U.S. & World
Stories that affect your life across the U.S. and around the world.
United States Army, Staff element
United States Army Field Band
United States Military Academy
United States Army
United States Army Color Guard
United States Army National Guard
United States Army Reserve
New York Police Department Emerald Society Pipes and Drums
Caisson Platoon of the Third Infantry Regiment
Nassau County Firefighter's Pipes and Drums (New York)
Wounded Warrior Project
Disabled American Veterans
Paralyzed Veterans of America
New York Military Academy
The Marist College Band (New York)
Boone County Elite Equestrian Drill Team (Kentucky)
West Monroe High School Marching Band (Louisiana)
Texas State University Strutters
Talladega College Band (Alabama)
Boy Scouts of America

SECOND DIVISION
United States Marine Corps, Staff element
United States Marine Band
United States Marine Corps
United States Marine Corps Color Guard
United States Marine Corps Reserve
Navajo Code Talkers Association
United States Border Patrol Pipes and Drums
United States Customs and Border Protection Office of Field Operations
Indianapolis Metropolitan Police Motorcycle Drill Team
Culver Academies Black Horse Troop and Equestriennes (Indiana)
Columbus North High School Marching Band (Indiana)
Tragedy Assistance Program for Survivors
Norwich University Regimental Band and Drill Team (Vermont)
Rural Tractor Brigade
University of Tennessee Marching Band
Boy Scouts of America

THIRD DIVISION
United States Navy, Staff element
United States Navy Band
United States Naval Academy
United States Navy
United States Navy Color Guard
United States Naval Reserve
Merced County Sheriff's Posse (California)
Coastal Florida Police and Fire Pipes and Drums
Multi-Jurisdictional Mounted Police Drill Team and Color Guard (Michigan)
AMVETS
1st Infantry Division Commanding General's Mounted Color Guard
Girl Scouts of America
Franklin Regional High School Marching Band (Pennsylvania)
Fishburne Military School Army JROTC Caissons Battalion (Virginia)
Lil' Wranglers (Texas)
Boy Scouts of America

FOURTH DIVISION
United States Air Force, Staff element
United States Air Force Band
United States Air Force Academy
United States Air Force
United States Air Force Color Guard
United States Air National Guard
United States Air Force Reserve
The Citadel Regimental Band and Pipes (South Carolina)
The Citadel Summerall Guards
1st Calvary Division Horse Calvary Detachment
Olivet Nazarene University Marching Band (Illinois)
Military and Department of Defense Kids Overseas (U.S. Naval Air Station, Sigonella, Italy)
Tupelo High School Marching Band (Mississippi)
Mid America Cowgirls Rodeo Drill Team (Michigan)
Palmetto Ridge High School Marching Band (Florida)
Boy Scouts of America

FIFTH DIVISION
United States Coast Guard, Staff element
United States Coast Guard Band
United States Coast Guard Academy
United States Coast Guard
United States Coast Guard Color Guard
United States Coast Guard Reserve
Cleveland Police Mounted Unit (Ohio)
North Carolina Vietnam Helicopter Pilots Association
Palm Beach Police Honor Guard (Florida)
Russellville High School Marching Band (Arkansas)
Colorado Freedom Riders
Frankfort High School Marching Band (West Virginia)
Boy Scouts of America
United States Merchant Marine Academy Staff
United States Merchant Marine Academy Band
United States Merchant Marine Color Guard
United States Merchant Marine Academy Company
First Troop Philadelphia City Calvary
Virginia Military Institute