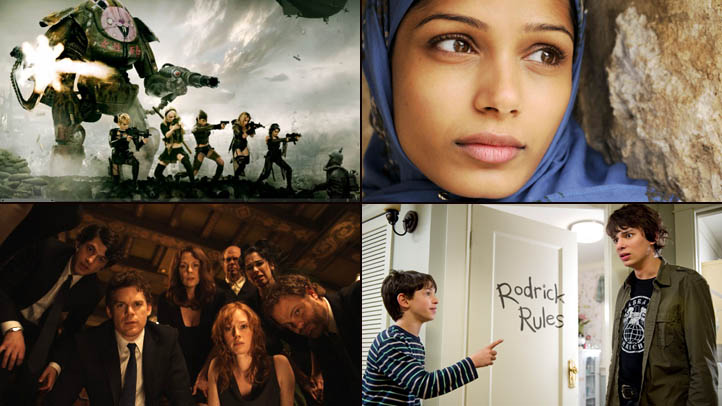 A young woman is sent to an asylum, where she and her fellow strippers do battle with all sorts of monsters, a kid suffers under the tyranny of his older brother, a young woman comes of age in a Palestinian orphanage, a family falls apart, and all sorts of other things are happening at the theaters this week...
Sucker Punch
From director Zack Snyder ("300," "Watchmen") comes a film he's described a s"'Alice in Wonderland' with machine guns." It stars Emily Browning as Baby Doll, a young woman sent to an asylum who retreats into her imagination to help plot her escape. In theaters everywhere, read our review and watch the trailer
Diary of a Wimpy Kid: Rodrick Rules
Greg Heffley (Zachary Gordon) is back, and this time he's being terrorized by his older brother Roderick who's trying to take advantage of their parents' attempts to force them to bond. In theaters everywhere, watch the trailer

Miral
From director Julian Schnabel and starring Freida Pinto, about a raised in a Palestinian orphanage who doesn't realize the true state of her people until she is assigned to teach at a refugee camp. In limited release, read our review and watch the trailer
U.S. & World
Stories that affect your life across the U.S. and around the world.
Peep World
Michael C. Hall, Sarah Silverman, Judy Greer, Rain Wilson, Kate Mara, Lewis Black and Ben Scwartz star in this comedy about a family torn apart at the patriarch's 70th birthday party, when they finally discuss the youngest brother's tell-all Roman a clef. In limited release, watch the trailer

Potiche
Two legends of French cinema, Catherine Deneuve and Gerard Depardieu, star in this farce set in 1977 about a woman who must take over management of her husband's umbrella factory after workers rebel. In limited release, watch the trailer
The 5th Quarter
Based on the tragic true story of a teenage boy who died in a car accident and whose older brother, a Wake Forest football player, honored his dead bother by changing to his old uniform number, 5, and holding up five fingers at the end of the third quarter. In limited release, watch the trailer

Illegal (2011)
A Belorussian mother and son living illegally in Belgium are torn apart when their immigration status is discovered and she is taken into custody. In French and Russian, the film won SACD Prize last year at Cannes Director's Fortnight. In limited release, watch the trailer

Mia and the Migoo
From the team behind "The Secret of the Kells," a story about a young girl in a showdown with a developers who want to exploit the environment. In limited release, watch the trailer

White Irish Drinkers
A coming of age story about two brothers growing up in Brooklyn who decide to rob a liquor store on the same night the Rolling Stones are playing a show. In limited release, watch the trailer