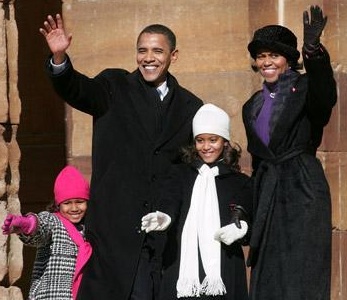 The Obama family arrives separately in Washington this weekend. Incoming first lady Michelle Obama and their daughters arrived last night, and the president-elect is set to arrive early this evening. The family spent the past two days in Chicago, preparing for the move, with Obama doing the usual — getting his weekly haircut, working out at his friend's apartment complex and spending time at the transition office.

Transition aides said it was important for the girls, Malia, 10 and Sasha, 7, to settle in before the first day of school next week. So far, aides have been vague about what day the girls will start — the official first day is Monday — and had also been vague about what day the family would depart for D.C. Arrival times for Michelle and the girls were not made public.

During their 12-day Hawaiian vacation, Obama gave the slip to the traveling press and made off for a water park with his daughters, expressing annoyance at the constant media glare. And Michelle Obama has stressed her desire for the girls to have a "normal" life as they make the transition to the White House. The girls will attend Sidwell Friends School, where Malia will be a fifth-grader and Sasha a second-grader. The private Quaker School, whose alumni include Chelsea Clinton, has a no-press policy.
The family will stay at the Hay Adams Hotel, which has a view of the White House, before moving to Blair House on Jan. 15.
Copyright POLIT - Politico