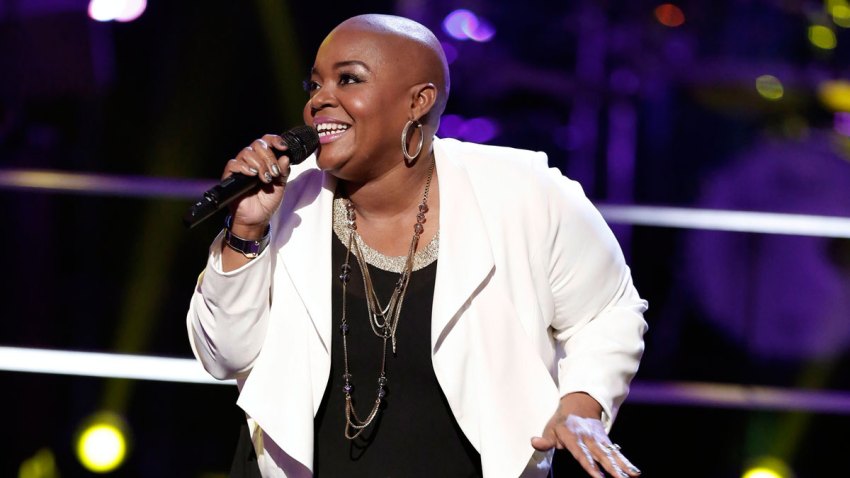 Sia opened Tuesday night's episode of "The Voice" with a performance of her song "Elastic Heart."
But even though the five-time Grammy nominee wore her iconic face-masking fringe of platinum blond hair, the spotlight was trained squarely on Team Xtina and Team Adam, as five singers from each team tried to prove to voters across the America why they deserve a spot in the top 12.
"Tonight, get ready, because my team is blowing it out of the water," coach Christina Aguilera said.
One common theme for the night: Creative song choices that showcased a different side of the singers' styles.
"I think we went above and beyond to make sure that we did something different, and I think that really paid off," coach Adam Levine said.
Tonya Boyd-Cannon, Team Adam's powerful soul singer, got the crowd and the judges to their feet with an opening performance of Sir Elton John's "Take Me to the Pilot."
"It was just magical, the way you got everybody's spirit moving in here," coach Pharrell Williams said.
Joshua Davis, who talked about his struggling with being away from his family since his wife recently gave birth to a baby boy, took up "Budapest" by U.K. folk singer George Ezra.
"This is the perfect song for you," Levine told him.
U.S. & World
Stories that affect your life across the U.S. and around the world.
Sonic took on Mary J. Blige's hit "I'm Going Down" as a special challenge from Aguilera.
"You're such an inspiration for people who have hearing loss," Aguilera told her. "And you're up there doing your thing."
Aguilera challenged her young vocalist Kimberly Nichole to sing the challenging "What's Up" by 4 Non Blondes — the first time the song had been performed on "The Voice."
After her performance, a tearful Nichole waved to her (also tearful) 91-year-old great-grandmother, who made a special trip to watch her sing.
"That is a really, really hard song to sing," Levine said. "And you killed it!"
Nathan Hermida picked up the baton next for Team Adam, singing a brooding, R&B-styled version "I Wouldn't Change" by Nick Jonas in an effort to crack into the top 12.
"There were some issues with the vocal stuff," Levine told him, "But you deserve 100 percent credit for getting out there and breaking out of your shell."
Lexi Dávila, Team Xtina's 17-year-old aspiring R&B and soul singer from Ohio, tapped into her soulful side with a dynamic rendition of Celine Dion's "All By Myself."
"Tonight you made me so happy—I saw you loosen up, and try new things and explore a different side of yourself." Aguilera told her. "And you nailed it."
Team Xtina's India Carney, a performing arts student at UCLA who balanced her college finals at the same time as her finals performance, sang "Hurt" by none other than her coach.
"This song, she's gonna have to get vulnerable and small in certain areas, and powerful in other areas," Aguilera said.
Carney succeeded, bringing all four coaches to their feet with a performance that Shelton hailed at "emotional and powerful."
"I don't know what else you could have done to make that better," Shelton said.
Brian Johnson sang "At This Moment" by Billy Vera and the Beaters.
"Man, you keep getting better every time you step on that stage," coach Blake Shelton told him. "You're a perfect vocalist. You're a perfect vocalist, period."
Aguilera tested Rob Taylor with a performance of "Earned It" by The Weekend to showcase his thrilling vocal agility.
"That was effortless," Williams said. "That's how it's supposed to sound, look, feel."
Team Adam's Deanna Johnson, who had struggled with nerves onstage and had not progressed past the blind auditions in season five, closed out the show with a time-worn gospel song "Down to the River to Pray."
"You finally did what I've been dying to hear this season," Levine told her. "It was flawless. It was completely flawless."
And by the standards of the competition so far, "flawless" is what each singer will need to be to earn a spot in next week's playoffs.