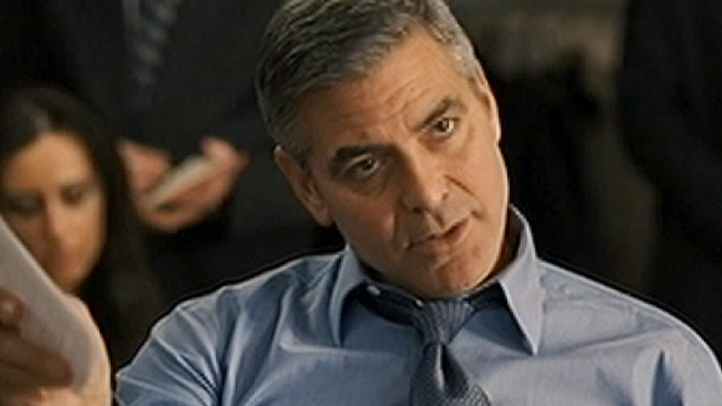 "Real Steel" was the #1 movie at the box office this weekend. But when you make a movie for $110 million and it only grosses $27 million on its opening weekend, guess where that lands you in the PCBS standings? SIXTH AND WALKING HOME IN DISGRACE. Fightin' robots stand no chance against the unstoppable Christian punching power of Alex Kendrick, who smites both Hugh Jackman and George Clooney in this week's tally. Your box office figures look like this, according to Box Office Mojo:

1. Real Steel - $27.3M
2. The Ides of March - $10.4M
3. Dolphin Tale - $9.2M
U.S. & World
Stories that affect your life across the U.S. and around the world.
4. Moneyball - $7.5M
5. 50/50 - $5.5M
6. Courageous - $4.6M
7. Lion King 3D - $4.6M
8. Dream House - $4.5M
9. What's Your Number? - $3.1M
10. Abduction - $2.9M

How dare Tyler Lautner still be allowed to hang around the top ten! We can fix that with one simple keystroke. SHAZAM!

1. Courageous - 243
2. The Ides of March - 207
3. 50/50 - 203
4. Dolphin Tale - 103
5. Moneyball - 98
6. Real Steel - 65
7. Drive - 57
8. Lion King 3D - 34
9. The Help - 33
10. Contagion - 18

"The Ides of March" is interesting because it got generally favorable reviews and had an extremely modest budget - two things that aid you in the PBCS standings - and yet I don't think Clooney's stay near the top will last very long. Virtually every positive review for the movie was like, "It's good, but not THAT good." There were no universal glowing for Clooney's directorial effort, and the box office was tepid. Expect it to fall quickly. Meanwhile, "Courageous" keeps adding to its coffers and doubling up its budget over and over again. YOU CANNOT CONTAIN ALEX KENDRICK. Meanwhile, the rankings already indicate that "Real Steel" is a failure, which everyone knew despite its box office title. HINT TO STUDIOS: When robots fight, no one CARES who wins. The winner is a stupid robot. Whoop-dee-doo.