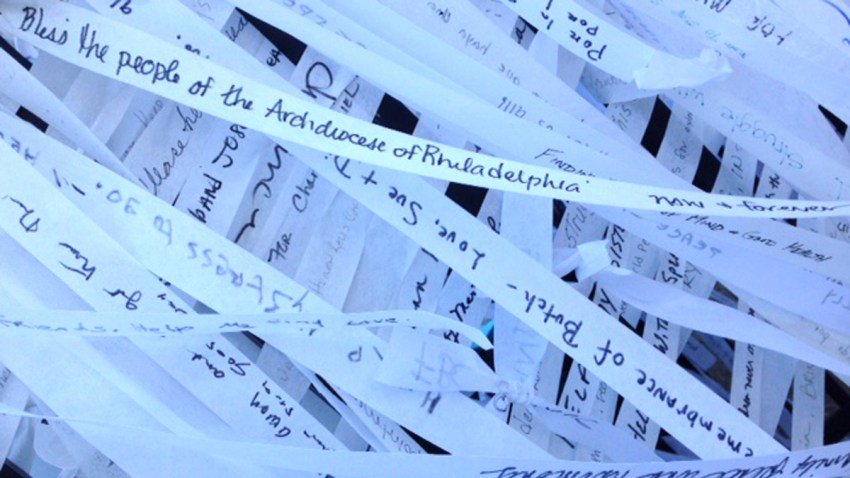 In the northern courtyard of Philadelphia's Cathedral Basilica of Ss. Peter and Paul, Pope Francis visited the place where thousands of prayers jotted in black ink on white strips of paper blow in the breeze during his visit to the 2015 World Meeting of Families in Philadelphia.
The Knotted Grotto, as the public art installation is called, is a place anyone can go, write their intentions down, and tie them onto one side of the courtyard fence to be "undone" by another person. People leaving intentions tie their own and then untie someone else's to move it to the other side in homage to Pope Francis' favorite image of the Blessed Mother as Mary Undoer of Knots.
U.S. & World
Stories that affect your life across the U.S. and around the world.
The symbolism, a volunteer at the Grotto explained to people who streamed in to write intentions on Wednesday, is that at times, "you can't undo your own knots" and need support from others. Pope Francis is expected to bless the thousands of intentions written in different languages and tied at the grotto during his visit this weekend.
IMAGES: The Knotted Grotto
Kristin Henkel, 25, of Philadelphia, brought her 9-year-old nephew Ryan to add an intention to the grotto.
Theirs was for troops coming home and still overseas to have peace, and the one they untied, from an anonymous Philadelphian who left only initials, was for a family blessing.
"We obviously have so much to pray for," Henkel, who has military members in her family and used to work for the VA, said. "This is just something I find important."