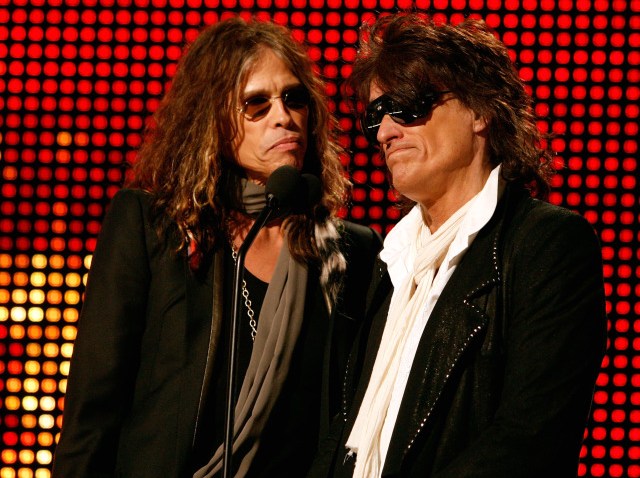 He's an "American Idol" judge, but Steven Tyler still wants to be Aerosmith's lead singer. Trouble is, he can't find his lead guitarist.
Tyler, who is sort of the Mick Jagger to Joe Perry's Keith Richards, said he wants to get to work on what would be the band's first album since 2001. But Perry, who has made no secret of his contempt for Tyler's decision to become a TV judge, is out of pocket.
"I'm trying to rally the guys together," Tyler told Rolling Stone. "We're having trouble getting Joe [Perry]. I don't know where he is, but just come down to L.A. at the end of January sometime. I've had enough downtime."
U.S. & World
Stories that affect your life across the U.S. and around the world.
The band started to record a new album a few years ago, but squabbled. Since then the group has toured together, even though Tyler and Perry barely speak offstage.
"As far as Joe goes, look, the guy's got LSD — Lead Strummer Disorder," Tyler told the magazine. "We've been brothers forever. He's just going through his thing. I think the rings of Saturn are composed entirely of unrecorded Joe Perry licks floating around in the ether somewhere."
Perry told the Calgary Herald in September that he first learned that Tyler was going to be a judge on "Idol" through the media — even though the band was on tour at the time.
"We sat down not too long ago, when we decided to do this tour, and we basically laid out plans for the next two years," Perry said. "When you're sitting there talking about that and one of the band members knows full well he's signed a contract that's taking him out of the music business for seven months of the year — that kind of throws a wrench into things."
And Perry is no fan of the TV show.
"It's a reality show designed to get people to watch that station and sell advertising," he said. "It's one step above Teenage Mutant Ninja Turtles. When we put this band together, this is not something that [Steven Tyler] would do. It's his business, but I don't want Aerosmith's name involved with it."
Selected Reading: Rolling Stone, Calgary Herald.