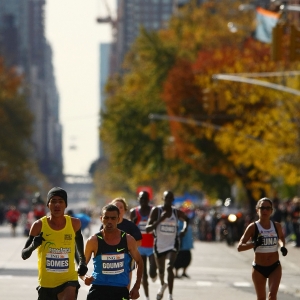 There were some famous faces on the road at the ING New York City marathon on Sunday.
Actor Ryan Reynolds was set to run in the 26.2 mile race, as were Howard Stern's wife, Beth Ostrosky, and Olympic gold medalists Brandi Chastain and Kerri Strug, according to People.
VIEW THE PHOTOS: Sexy Olympians
U.S. & World
Stories that affect your life across the U.S. and around the world.
"I would sooner be prime minister of the moon than run another marathon," Ryan told People on Friday, but he joked that he's had good luck so far. "I didn't have any toenails fall off or anything disgusting like that. I still have all three nipples."
He hit the road to support the Michael J. Fox Foundation in honor of his father, Jim Reynolds, who he says has struggled with Parkinson's Disease for 15 years.
VIEW THE PHOTOS: Beijing Olympics: The Athletes Arrive
And if that's not enough incentive, new wife Scarlett Johansson was set to cheer him on from the sidelines.
"She'll be on the road somewhere," he said. "She better be."
Ryan wasn't the only one running for a cause.
VIEW THE PHOTOS: Ryan Reynolds
Brandi and Kerri are both reportedly serving as ambassadors for the ING Run for Something program to promote youth fitness, and the two athletes say they've learned something themselves during their training.
"We are not going to win the race," Brandi told People. "That is what we know."
"I played a team sport so it was a harder transition for me to go on the road by myself over time for an hour and two hours and three hours," the soccer star continued. "I've found… that there is a peace out there that I didn't know existed in running before."
As for Kerri, the former gymnast – who helped the U.S. women's team win the gold in 1996 on an injured ankle – has enjoyed a different type of training.
"[In gymnastics] it's all about protein, whereas with this, I'm so happy because I love carbs. I'm very happy with the carb-overloading phase," she said.
Meanwhile, Beth was reportedly running to raise money for the North Shore Animal League – and luckily for the new bride, her husband has done more than just cheer her on while she trains.

"The greatest thing is that he's a runner and he's been running most of the mileage with me," she told People. "I have him all weekends for the runs, and that's huge."
Related Content from AccessHollywood.com:
PLAY IT NOW: Mark Spitz Excited For Phelps' Success
PLAY IT NOW: Access Archives: Ryan Reynolds

MORE ACCESS ON THESE TOPICS: Athletes - Ryan Reynolds - Celebrities

Copyright NBCAH - Access Hollywood