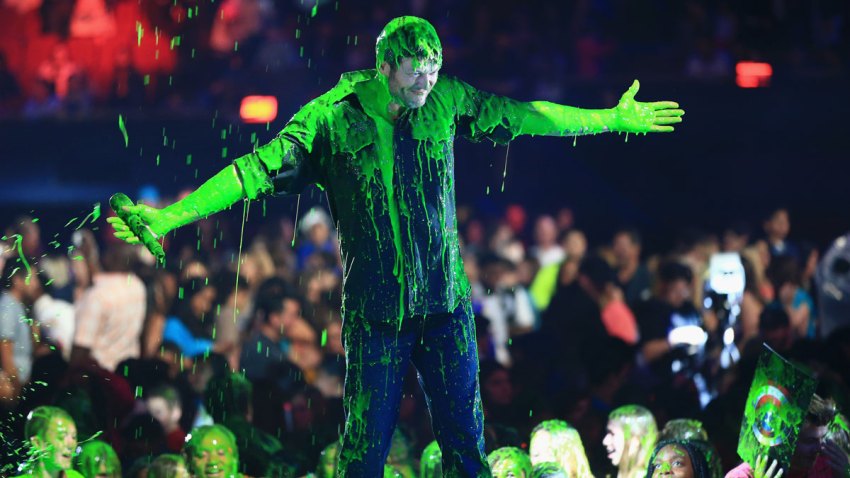 As far as award show traditions go, Nickelodeon's tradition of dousing celebrities with green slime at the Kids' Choice Awards is easily one of the greatest.
Let's get real — who didn't enjoy seeing Justin Bieber and Taylor Lautner covered in the green concoction? Yeah, no one, that's who.
Saturday night's annual show, hosted by Blake Shelton, lived up to its previous years of pranking. There were plenty of slimy moments to be had and we've got you covered on this year's unsuspecting victims.
U.S. & World
Stories that affect your life across the U.S. and around the world.
PHOTOS: Kids' Choice Awards: The Best Slimes!
1. John Stamos: Nickelodeon actor Jace Norman snuck up behind the Fuller House actor and dunked the leather-clad star with a bucket of green goo.
Stamos, clearly not a fan of surprises, got his immediate revenge on the 15-year old by sharing a head full of slime with Norman's shirt. Does that count as the second slime of the night? Poor Norman — hope he had a backup shirt ready for this unexpected turn of events.
2. Fifth Harmony: The girl group were winners tonight, but that did not exclude the "Worth It" singers from a fountain of slime. While four out of five group members were horrified by the slimy surprise, check out how group member Dinah Jane runs out of the splash zone in the nick of time.
CLICK: Complete list of winners at Kids' Choice Awards 2016
3. Jason Sudeikis: The "Angry Birds" star had just come to terms with the fact that he was about to get shot from a giant slingshot when he and co-star Josh Gad were shocked with a soaking of slime instead. Jason's look of bewilderment says it all.
4. Cameron Dallas: Blake gave the audience an interactive slime experience — who gets soaked in a slime shower: Bethany Mota or Cameron Dallas? The votes came in and the winner was revealed. Sorry, Cameron.
5. Blake Shelton: You can't expect to slime a bunch of stars and not participate. After much suspense, Blake ended the show by sliming a ton of audience members as well as himself.
Copyright E! Online