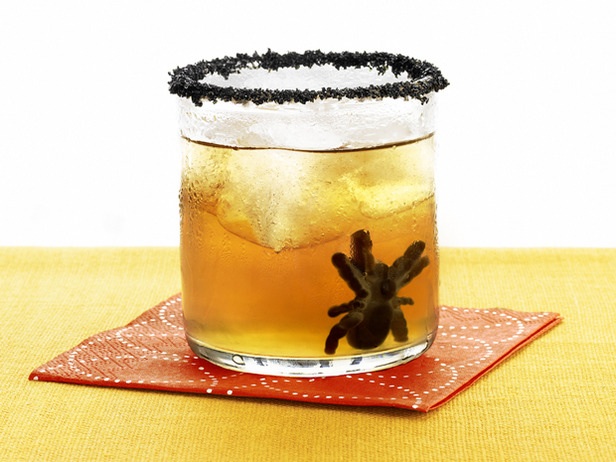 "Candy is dandy, but liquor is quicker" -- Ogden Nash, "Reflections on Ice-Breaking."
We agree with Nash, especially when breaking the ice on October 31st. When you're in the mood for a creepy cocktail, these recipes should help fill up your cauldron.
The Dark and Spooky
U.S. & World
Stories that affect your life across the U.S. and around the world.
Black decorating sugar, for the glass
Juice of 1 lime plus 1 lime wedge
1/4 cup dark rum
1/4 cup ginger beer or all-natural ginger ale
Spread out the black sugar on a small plate. Rub the lime wedge around the rim of a rocks glass and dip the glass in the black sugar. Fill with ice. Combine rum and lime juice in a cocktail shaker. Fill with ice and shake well. Strain into the glass, top the drink with ginger beer and garnish with a gummy spider. (Food Network)
---
Candy Corn Cordials
For infused vodka:

1/2 cup candy corn
1 1/2 cups vodka

For the cordials:
2 ounces orange liqueur
Juice of 1/2 lemon
1 large egg white
Infuse the vodka: Combine the candy corn and vodka in an airtight container; set aside for at least 3 hours, then strain.
Make the cordials: Add 4 oz. of the candy corn vodka, the orange liqueur, lemon juice and egg white to a cocktail shaker filled with ice. Shake vigorously for 30 seconds then strain into 2 chilled martini glasses. Garnish with candy corn. (Food Network Magazine)
---
The Halloween Hott Rodd
Layer the following in a highball glass. Pour over the back of a spoon to keep the layers nice and neat:
1 oz. Godiva liqueur
1 oz. Caravella Orangecello

1 oz. Patrón Citrónge
Finally, drizzle in a little white chocolate sauce and garnish with an orange twist. (Rodd Gray, Lake Highlands)
---
Candied Apple Martini
Combine the following in a cocktail shaker over ice:
1 oz. Butterscotch Schnapps
1/2 oz. Goldschlager
1/2 oz. DeKuyper Sour Apple Pucker
splash of pineapple juice
splash of cranberry juice
Shake to chill and serve straight up in a martini glass. (Jana Miller, II Charlies Bar & Grill, Denton)
---
Wicked Witch on the Rocks
1/3 oz. gingerbread liqueur

1/3 oz. Frangelico

1/3 oz. Baileys Irish Cream

Combine first two liqueurs over ice and top with Baileys. Garnish with a cinnamon stick. (Jana Miller, II Charlies Bar & Grill, Denton)
---
Three Olives Diablo Rojo
Combine 2 oz. Three-O Tomato Vodka and desired amount of Bloody Mary Mix over ice. Add a few dashes of hot sauce and sliced jalapenos. Garnish with speared peppers. (Three Olives Vodka)
---
DeKuyper Creepy Cosmo
1 Part DeKuyper Signature Triple Sec
3 Parts Hornitos Tequila
1 Part cranberry juice
Splash lime juice
Combine ingredients in an ice-filled shaker. Shake and strain into a chilled martini glass. (DeKuyper USA)
Copyright FREEL - NBC Local Media