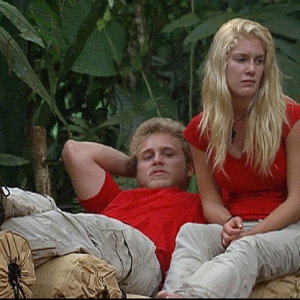 Spencer and Heidi Pratt were a long way from "The Hills" this weekend, spending the night in the spooky Lost Chamber while waiting to learn their "I'm A Celebrity… Get Me Out Of Here!" fate in Costa Rica.
NBC reps confirm to Access Hollywood that the reality stars spent the night in the chamber while waiting to learn if their castmates will vote for them to be allowed back into camp.
VIEW THE PHOTOS: Heidi Montag & Spencer Pratt
U.S. & World
Stories that affect your life across the U.S. and around the world.
And while the pair was expecting to encounter snakes, cockroaches and other jungle creatures during their night, Paul Telegdy, NBC's executive vice president of alternative programming, tells Access that they had only one close encounter — with a spider.
While trying to kill the arachnid, Telegdy said Spencer hurt his thumb and called for help.
VIEW THE PHOTOS: 'I'm A Celebrity… Get Me Out Of Here'
"I've dislocated my thumb! Emergency! Call a medic!" Spencer said, in a scene likely to be shown on Monday's episode of the NBC show.
However, asked by a medic if he could still give a thumbs-up, Spencer could — and the medic responded, "Then you haven't dislocated your thumb, Spencer! Sit down! Don't be ridiculous."
The star still asked for assistance after the exchange.
VIEW THE PHOTOS: Spencer & Heidi Get Cheesy For Charity
"No, I've got to see a medic!" he said. "This is the worst thing I've ever done in my life!"
But the real drama starts after the lights go off.
"We have them on infrared cameras and all we can say is you see two sets of very terrified eyes, blinking, goggle-eyed, terror-struck! They prayed quite vigorously," Teledgy told Access, adding that the couple suffered through a "psychological experiment" with odd noises and the feel of wind on their backs blown from a tube.
Related Content from AccessHollywood.com:
PLAY IT NOW: Will Heidi & Spencer Be Accepted Back On 'I'm A Celebrity…'?
PLAY IT NOW: Booted 'Celebrity' Angela Rants About Heidi & Spencer Antics

MORE ACCESS ON THESE TOPICS: Spencer Pratt - Heidi Montag - I'm A Celebrity… Get Me Out Of Here! - The Hills - Reality TV

Copyright NBCAH - Access Hollywood