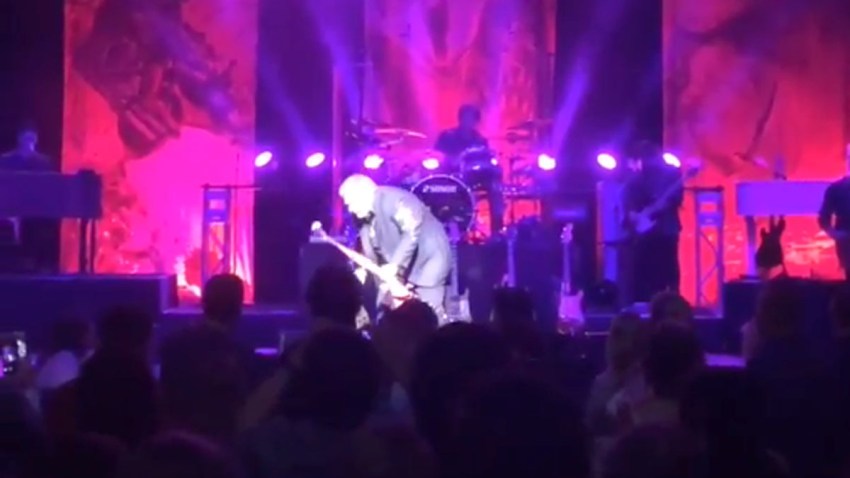 Rock singer Meat Loaf is "recovering well" in a hospital after collapsing on stage during a concert in Canada on Thursday night, his publicist said in a statement Friday morning.
A video of the performance at Edmonton's Jubilee Auditorium in Alberta showed the singer dropping his microphone and falling to the floor amid a performance of his classic "I'd Do Anything for Love (But I Won't Do That)." Musicians went to his side to help, and the music eventually stopped.
"He was admitted to a nearby hospital to undergo routine tests. His vital signs are stable and normal — he's responsive and recovering well," said spokesman Jeremy Westby.
U.S. & World
Stories that affect your life across the U.S. and around the world.
Westby added the singer "extends his heartfelt thanks for everyone's support and well wishes, and is expecting a speedy and full recovery."
The 68-year-old, who was born Marvin Lee Aday, had canceled two other concerts in recent days — in Moose Jaw on Saturday and in Calgary on Tuesday — citing poor health.
A spokesman for Alberta Health Services said a patient was transported from the auditorium to a hospital, but the spokesman declined to identify the patient or provide an update on the person's condition for privacy reasons.
Attendees were asked to vacate the arena, concertgoer Mikey McBryan said.
Meat Loaf had appeared to be struggling earlier in the performance, McBryan, 33, said.
"It was him forgetting words, he wasn't on cue, but it was forgiveable," he said. "We're all loving it and going crazy, and then it just took a turn for the worst."
Born Marvin Lee Aday, Meat Loaf made his name with theatrical stage productions and operatic songs, including "Paradise by the Dashboard Light," ''Two out of Three Ain't Bad" and "Bat out of Hell."
He won a Grammy Award for "I'd Do Anything for Love (But I Won't Do That)." He also appeared in the films "The Rocky Horror Picture Show" and "Fight Club."
He has collapsed on stage before. In 2011, medics rushed to his aid during a concert in Pittsburgh but he got up and finished the show. In 2003, he collapsed at Wembley Arena in London and was admitted to a hospital.
The singer said he suffers from asthma and from a medical condition that causes an irregular heartbeat.
@JWongGlobalNews @GlobalEdmonton it was meatloaf, saw it with my own eyes pic.twitter.com/crgeEv1BWk

— Calmanda (@callie_86) June 17, 2016
Copyright AP - Associated Press