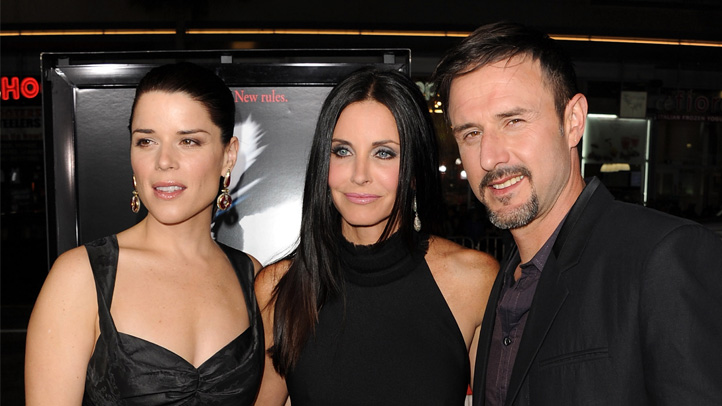 The "Scream" films have provided a pretty substantial cinematic body count since 1996, but four survivors have dodged Ghostface's blades for over 15 years: stars Neve Campbell, David Arquette, Courteney Cox and director Wes Craven.
A decade after the third film, the quartet reunite for "Scream 4" (opening today), and they say they're glad the franchise's concept – and their chemistry – has survived as well.
"I had fun playing Sidney and doing this film, as always," says Campbell, who reprises her role as the self-aware scream queen Sidney Prescott. "What's been fun for me is that I just think that she's the eyes of the audience in a sense, in that the audience is taken with her because they need one core character to really feel for in order for the horror and for the humor to work. So for me it's just been about being really straight and honest with her circumstances, and being true to them and playing to it in that way and letting everyone else sort of buzz around me and do a really fantastic job."
U.S. & World
Stories that affect your life across the U.S. and around the world.
Arquette says the "Scream" team's camaraderie extends behind the camera as well. "We've developed this family, and not only fellow actors and directors, but all of the crew," he says. "We've shared 15 years together – It has been ten years since we worked together, but there's a real family feeling and it really grounds it. When I see Sidney's character in the movie, there's a history there and you don't really have that opportunity in a lot of roles. And Courteney and I being married and having a kid – just everything. It exemplifies the reality and the honesty and that's really my favorite part of acting, when you can tap into stuff like that."
Cox – who met Arquette on the first film and later married him, though the couple has recently separated – says even years later the group dynamic "just felt very natural. First of all we've had ten more years of experience of acting, and so I was that much more confident. I'm now a mom and I'm just a different person – a different person feeling different things, but coming back to your family. You just know each other and you feel like you can just kind of get right back into it, and feel like you can be better than you were last time. I became closer with Neve than I did in the first three, and I just adore that girl."
"Wes was instrumental in us being together," adds Cox. "He's kind of our mentor in relationships and in growing up, and to come back and do it again is just really fun. I love playing Gale. Gale is just very campy and I love her relationship with Dewey and the fact that they're together is so funny. He's so earnest and she's so out to get ahead. It's just a very odd pairing, and so were we. Although we're not really – but we kind of are."
"Wes is incredible," agrees Arquette. "As much as a master as he is at it he's still a student of nature and human behavior. So it's been a great experience, really growing with each other and going through life's changes. It brings a real humanness to these movies and another layer because there are films within films, but then there's real life. They all really kind of intertwine."
"I don't think any of us just think of it as a horror film or a slasher film at all – It's a very interesting, complex, funny, smart drama," explains Craven, who agreed to tack on a fourth outing to restore some of the franchise's bloody luster. "We needed to bring it back up to par a little bit. I thought that 'Scream 3' was a little too goofy – too 'Scooby-Doo.' And we didn't have Neve as much as we did in this – she wasn't as available and was a little bit more in the background a lot of the time. So we all wanted to come back and do one. I'm sure that all of us felt that it had to be really, really good – and not to prove anything to anybody else, or even ourselves. It just deserved to be good, and the audience deserved it to be good."
"It's not something where we didn't give our all for it," adds Craven. "You don't get an opportunity to do that in life and come up with something that good that often, so it's a good feeling."
With such an off-camera lovefest happening behind the scenes – and the hope of blockbuster box office in theaters – the opportunity may come yet again. "I hope so," says Arquette, befor adding ominously: "You never know who lives or dies."