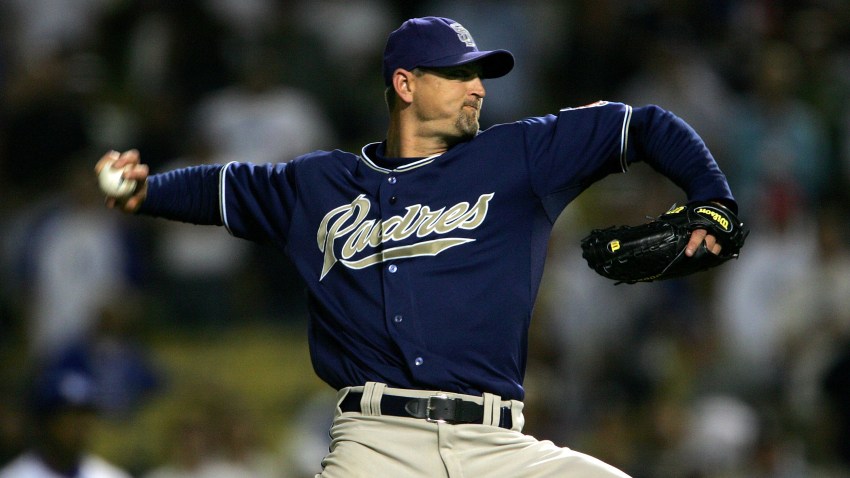 Mike Schmidt is regarded as one of the greatest baseball players to play the game, and he was a near-consensus Hall of Famer in 1995 after his 18-year career that saw him win three league MVP awards, 10 gold glove awards at third base and was a 12-time All-Star, if count his final year when he was totally undeserving but got in the game as a career achievement award, of sorts.
Now, he's pushing for a newcomer to his baseball stomping grounds of Philadelphia to join him in Cooperstown, N.Y. one day.
That's right, Schmidt is trying to make a case for former Ranger great Michael Young, who is about to begin his first season in the bigs with any team other than the Rangers after being traded to the Phillies this offseason. Schmidt made his case to Bob Brookover of the Philadelphia Inquirer:
U.S. & World
Stories that affect your life across the U.S. and around the world.
"Michael Young could retire tomorrow, and he would be a strong candidate for the Hall of Fame. He's probably two Michael Young years away from being a first-ballot Hall of Famer. I don't know what his career hitting numbers are, but he's a little like Derek Jeter. Is he not? If he played in New York, imagine what people would be saying about Michael Young's career. Somebody would have mentioned the Hall of Fame a long time ago."
Young has had a great career. But he's not a great, and outside of DFW he's probably nothing more than a "good player." What he said about if Young had played in New York has some merit, but he's still not a Hall of Famer.
Currently he sits at 2,230 hits — so really still four typical in-his-prime Michael Young seasons away from eclipsing 3,000, which seems to be the magic number for the Hall, and even that criteria has dwindled in recent years.
Aside from hits, Young never really did much. Don't get me wrong, that's a pretty nice one-trick for a pony to have, but he's not a power hitter, he's not a base stealer, he's not a great fielder. Yup, all he's really accomplished is hitting the baseball in the right-center field gap and being really, really durable, playing at least 155 games in 10 of his 12 big-league seasons, including 2006 when he played in all 162. He hit better than .300 seven times, winning the batting title in 2005, and is a career .301 hitter — not exactly Hall of Fame worthy.
Is Young the greatest Ranger of all time? Possibly, although Pudge Rodriguez might have something to say about that, but is he a viable candidate to get into the most selective Hall of Fame in major U.S. sports — the one that didn't vote anyone in this past go-round? No, absolutely not.
Copyright FREEL - NBC Local Media