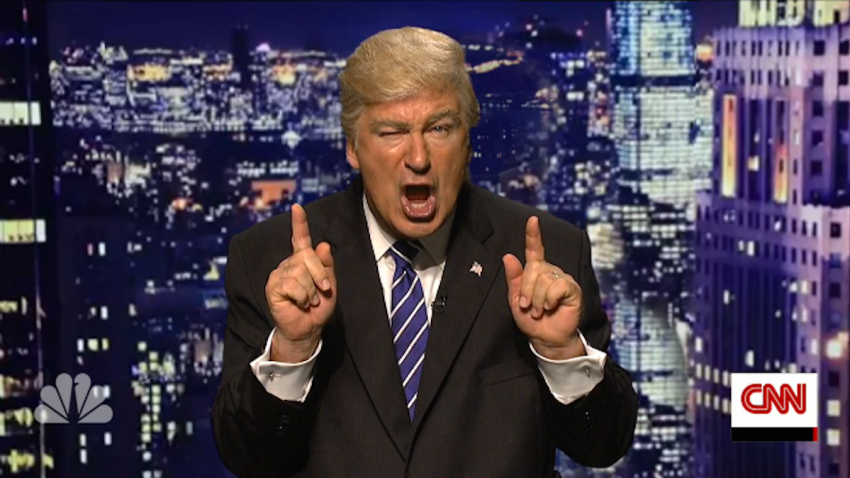 It may have been a very bad week for Donald Trump, but for "Saturday Night Live" it was a bottomless buffet's worth of material to draw from.
The late-night series' cold open began with the an encore of the vice presidential debate between Virginia Sen. Tim Kaine and Indiana Gov. Mike Pence. In the segment, cast member Beck Bennett's Pence vehemently denies that Trump has made derogatory comments about women.
"Donald Trump loves women. He respects women. He's never said a single bad thing about women and I dare you to show me a single shred of evidence that proves otherwise," Bennett said before the debate is interrupted with a special CNN breaking news report detailing the leaked audio of Trump's conversation with former "Access Hollywood" anchor Billy Bush in 2005.
U.S. & World
Stories that affect your life across the U.S. and around the world.
Alec Baldwin returned to studio 8H to portray the GOP presidential nominee, following his debut impression of the brash businessman on the show last week.
"Are you not entertained?" Baldwin's Trump asked CNN's Brooke Baldwin, played by Cecily Strong — a reference to Trump's defense of some of his other comments about women being done in the name of entertainment.
And while Strong's Baldwin fumbled for the words to describe the comments captured in the tape, Trump had no problem saying it directly into his microphone, stunning the CNN anchor.
"Now I would like to take this time to formally 'applegize,'" Trump began in the same backdrop that his videotaped apology was recorded from.
"Are you trying to say 'apologize?'" Strong interrupted.
"No, I would never do that. What I am doing is 'applegizing' to all the people who were offended by my statements," Trump explained. "But more importantly, to the people who were turned on by them. I hear it's really 50-50."
Strong gives Baldwin's Trump a chance to make one last impassioned plea to women voters.
"Listen, women, if you give me a chance, I promise I can do a whole lot more than just grab it. I can also bop it, twist it, pull it."
CNN goes live to Hillary Clinton's campaign headquarters where the Democratic nominee is doing her "debate prep."
"I'm sorry, Brooke. I'm sorry, didn't see you, we were so busy preparing for the debate tomorrow," said castmember Kate McKinnon's Clinton as "Celebration" by Kool and the Gang played in the background. "I'm really excited for this one."
Host Lin-Manuel Miranda delivered a musical monologue parody of the "Hamilton" hit "My Shot." Mirando joked that "Hamilton" is about two ruthless New York politicians fighting tooth-and-nail for control of the country: "You know… escapism."
Returning to politics, "SNL" showed us that there's no rest for the weary when you're Donald Trump's campaign manager. McKinnon played an overworked Kellyanne Conway, who was forced on multiple occasions to put her day off on hold to go on CNN and try to defend Trump's latest Twitter faux pas to anchor Jake Tapper, played by Bennett.
Whether it's twisting a clearly-worded tweet about Hillary Clinton cheating on Bill into Trump saying that she was cheating the American people or Trump holding up a cup of his own semen at a campaign rally, Conway was always there put a spin on things.
A usually eager McKinnon's Conway finally snaps, calling Trump "crazy" and saying he's the "worst person I've ever ever known."
The real Kellyanne Conway, meanwhile, canceled her scheduled appearance on Fox News Sunday, the network announced on Twitter. The Trump campaign replaced Conway with former New York City Mayor Rudy Giuliani.
Weekend Update got a visit from two old friends: former anchors Tina Fey and Jimmy Fallon. The "SNL" alumni played Denise and Doreen, a pair of undecided female voters from Philadelphia.
Co-anchor Colin Jost asked the voters how they felt about their status as the "most sought-after voters in the country" and for their opinions on the candidates.
While Fallon's Doreen said he thought both Trump and his Democratic rival Hillary Clinton "are bad," Fey's Denise couldn't resist breaking character to mock the "Tonight Show" host's playful interview when the GOP nominee was on the show.
"You love Trump," Fey said to Fallon. "You're always like, 'Oh his hair's real, ya know.'"
Musical guest Twenty-One Pilots rocked their Suicide Squad single "Heathens" followed by "Ride" off 2015's Blurryface.
"Access Hollywood" is owned and distributed by NBCUniversal, the parent company of NBC News, MSNBC, and this station.