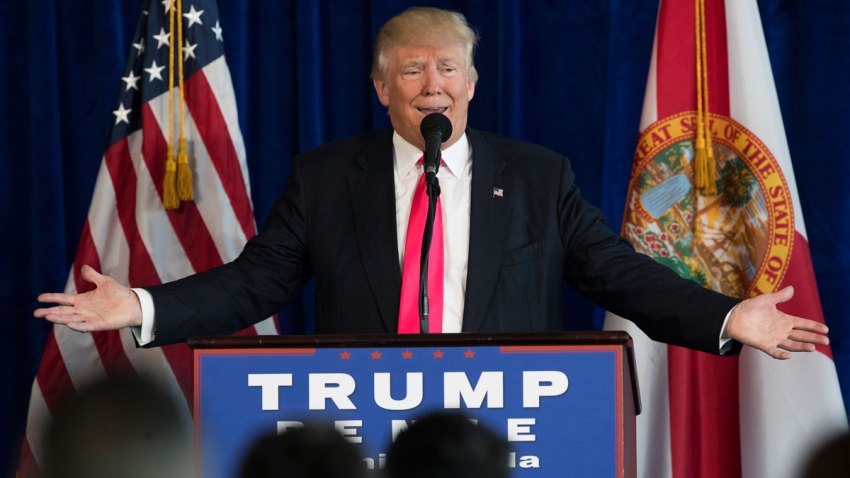 "Yes, this is real life. This is really happening," began "Saturday Night Live's" Donald Trump in a colorful "rebroadcast" of the president-elect's press event earlier this week—Trump's first since winning the U.S. election and a gift to comedy writers.
"On January 20, I, Donald J. Trump, will become the 45th President of the United States," he continued. "And then, two months later, Mike Pence will become the 46th."
Alec Baldwin, back in his Trump wig after the show's a holiday hiatus, fielded questions from a mock press corps about his conflicts of interest, his views on Russia's reported meddling in the U.S. election, as well as his plans to replace Obamacare. (Baldwin's Trump revealed that his plan was to replace it with the Affordable Care Act—in other words, the exact same thing.)
U.S. & World
Stories that affect your life across the U.S. and around the world.
But the press corps' dominant interest was in the most salacious detail of an unsubstantiated dossier published by BuzzFeed News, claiming that Russians had compromising material on Trump.
"I'd like to ask you about your big Russian pee-pee party?" ventured the first reporter.
"No, no. I am not talking about the pee-pee," Trump responded. "Because it didn't happen. And it wasn't as cool as it sounds."
The real Trump strongly denounced the dossier—which was generated on behalf of his political opponents—as "fake news" and "phony stuff" at the press conference earlier in the week.
But "SNL's" mock press corps refused to drop their questions about the document's allegations, despite Trump's palpable excitement about Three Doors Down agreeing to play his inauguration.
One reporter began with a serious question but eventually pivoted, unable to suppress her curiosity: "So," the reporter asked, "did you guys, like, all pee? Or did you just, like, watch them pee?"
A flustered Trump, in a reversal of roles, desperately tried to get reporters to focus on the issues and changed the topic to jobs.
"I'm going to bring back a thick stream of jobs back to this country," he said. "The biggest, strongest, steadiest stream you've ever seen. This country will be literally showered with jobs. Because I'm a major whiz at jobs."
Trump also used the opportunity of the press conference to knock his most-hated news outlets of the week: Buzzfeed, of course, but also CNN, an outlet that reported Trump and President Obama were briefed on intelligence from the unverified dossier published by Buzzfeed.
Trump refused to take a Buzzfeed reporter's question.
"I took your quiz yesterday, and I'll tell you right now," he said, miffed. "I'm not a Joey — I'm a Rachel."
Steve Harvey (played by Kenan Thompson) also made a quick appearance to talk about his potential involvement with the Department of Housing and Urban Development, confirming to the media with a chuckle, "Yeah, I do government now."
When Baldwin's Trump shifted from his usual script and blurted out to a pestering reporter that "Russia hacked the election," an oddly familiar looking reporter signaled to Trump that it was in his best interest to back off the claim.
"I'm American journalist Wolf Blitzer," the Putin lookalike said, menacingly waving a VHS "Pee Pee Tape" in front of the president-elect. Was Trump "really, really sure" that Russia was behind the hacking, he asked.
Baldwin's Trump stammered. "It was China. I mean Canada. It was Meryl Streep! Okay this press conference is over. Thank you all for peeing here — I mean, for pissing here — I mean, for being here."
The salacious topic surfaced again during a segment of "Weekend Update" in which Michael Che addressed "the problem with unverified claims."
"No matter how unverified they are, if it is hilarious enough people will always remember it as a fact."
And, as he is wont to do, Trump took to Twitter Sunday to voice his disapproval of the program.
Actress Felicity Jones hosted the show and received a visit from a hologram of Tina Fey.
Musical guest Sturgill Simpson performed his country singles "Call to Arms" and "Keep it Between the Lines."