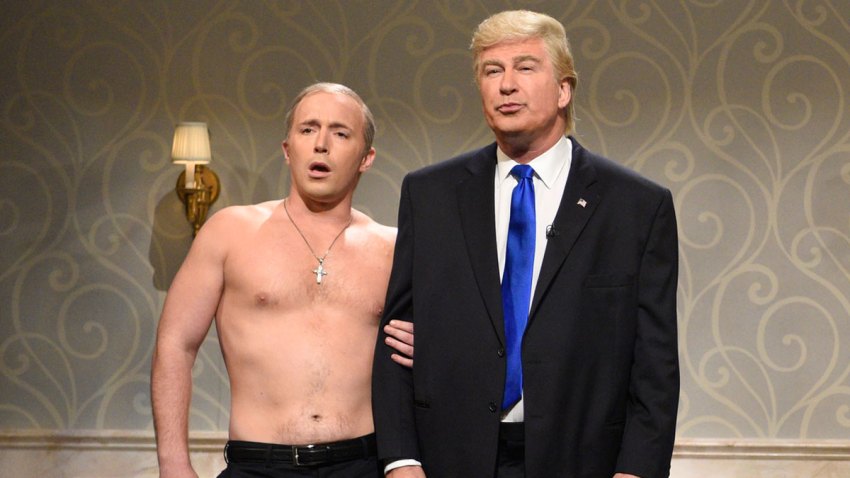 In its final episode of the 2016 presidential election campaign cycle, Saturday Night Live's Kate McKinnon and special guest Alec Baldwin came together for one last cold-open face-off as Hillary Clinton and Donald Trump.
There was no debate or real-life joint appearance for the show to riff off this week, so it had the candidates take each other on via a cable news talking heads show hosted by Cecily Strong.
The candidates played off of the latest campaign talking points, most notably on the recent attention drawn to Clinton's emails and on Trump's possibly-cozy relationships with the FBI, Vladimir Putin and white nationalists. But about halfway through the opening sketch Baldwin broke character, and joined with Mckinnon to satirize the cynicism that has gripped the country during the election.
U.S. & World
Stories that affect your life across the U.S. and around the world.
"I'm sorry Kate, I just hate yelling all this stuff at you like this," Baldwin said.
"I know, right? This whole election has just been so mean," McKinnon responded.
The two then join hands and parade out of NBC studios into Times Square where they hug strangers. They make it back onto the SNL stage at the end of the skit, and urge Americans to vote on Tuesday.
Host Benedict Cumberbatch ("Dr. Strange") sang his opening monologue, a take off a James Bond-style theme song. He was cast in a variety of sketches throughout the episode, taking on roles like "sexually open American stage magician" and "Benedict Cumberbatch on a game show."
The show's "Weekend Update" segment, much like the real news, was centered around the impending U.S. election this week.
Anchors Colin Jost and Michael Che welcomed a surprise special guest commentator to weigh in on which candidate is really the lesser of two evils.
And to lighten the mood even more, three of the World Series champion Chicago Cubs made guest appearances, singing in a barber shop quartet with a famous Cubs fan/SNL alum as their fourth.
The Cubs had already made their surprise appearance earlier in the episode, along with Cumberbatch, in a sketch that had them all grinding on an unconscious grandma.
Musical guest Solange performed two songs from her latest album A Seat at the Table: "Cranes in the Sky" and "Don't Touch My Hair."
Next week's SNL will be hosted by Dave Chappelle with musical guest A Tribe Called Quest.