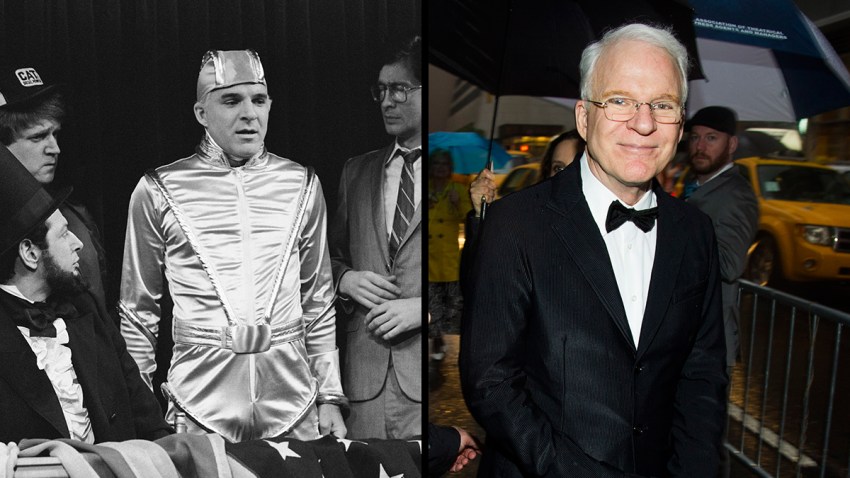 In late 1990, Tom Hanks hosted "Saturday Night Live" for the fifth time and got inducted into a secret society, complete with a gold membership card, wood-paneled walls, embroidered velvet robes and a special elbow-bumping handshake: the Five-Timers Club.
"Let's be frank: It takes a certain caliber of performer to achieve that very special fifth show," Steve Martin told Hanks with a faux haughtiness.
The skit proved not only memorable, but telling: It marked a cheeky recognition that the fortunes of "SNL" depend as much on the quality of the host as the cast.
U.S. & World
Stories that affect your life across the U.S. and around the world.
The show, which is marking its 40th anniversary season with a Feb. 15 special on NBC, has welcomed hundreds of hosts — but only a relatively small percentage have proved themselves worthy of repeat performances.
[[ 290329321, C]]
In honor of the Five-Timers Club, we've narrowed the best hosts to a highly subjective Top 5 list:
5. Richard Pryor
The comic is the only member of this list never to make a return appearance. But Pryor's stint on the show's seventh episode helped define the host's role and displayed its potential impact.
His monologue, about an acid trip, set the wild tone. He deftly turned samurai to bolster John Belushi's sword-wielding early running character, and played a priest in a spoof of "The Exorcist." But it was Pryor's daring racially charged job interview-word association sketch with Chevy Chase that firmly established "SNL" not just as a comic voice of the post-1960s counterculture but as TV's dysfunctional home of cutting edge, socially aware humor.
4. Christopher Walken
It's accurate, if not entirely fair, to sum up Walken's "SNL" legacy in two words: "More cowbell!" It's a tribute to Walken's injection of the bizarre that the skit, with its whimsical, absurd premise, became probably the most popular sketch in the show's history.
Walken also brought comic creepiness to his Euro-trash lech, "The Cosmopolitan," and to his hot tub soaker wistfully recalling past polyamory with Will Ferrell and Rachel Dratch's swinging professors ("Moussaka!"). The seven-time host always leaves us crying "More Walken!"
2. (tie) Alec Baldwin
He's hosted "SNL" more times than anyone — 16 — and with good reason. Like Walken, Baldwin used "Saturday Night Live" to recreate himself as a comic force. Baldwin perfected the art of the deadpan, getting laughs while playing a sometimes twisted straight man — from Canteen Boy's predatory scoutmaster to a soap opera doctor with a pronunciation problem to unfortunately named baker Pete Schweddy.
2. (Tie) Justin Timberlake
At age 34. the youngest member of the Five-Timers Club has the best shot at beating Baldwin's in-progress record. Timberlake arrives at Studio 8H with a comic talent that's come to rival his musical prowess. He's put both to work in his best "SNL" moments, playing a befuddled Robin Gibb, a crooning boyfriend bearing a certain gift in a box and a dancing, rapping cup of soup (among other costumed street hawkers). Timberlake is always welcome to bring it on down to "SNL"-ville.
1. Steve Martin
The comic's star rose along with "SNL," and there's no other host more closely tied to the show (not even Paul Simon, who deserves honorable mention kudos). Martin's arrow-through-the-head silliness proved less counterpoint to the edginess of the early "SNL" years, than a complement, lending balance and buoyancy. He introduced us on "SNL" to the musical side of King Tut — as well as to his own, um, very personal brand of beauty cream. Most memorably, he teamed with Dan Aykroyd to give us the forever-on-the-make Festrunk Brothers of Yugoslavia, the two wildest and craziest guys ever to hit late night TV.
[[281057062, C]]
Jere Hester is founding director of the award-winning, multimedia NYCity News Service at the City University of New York Graduate School of Journalism. He is also the author of "Raising a Beatle Baby: How John, Paul, George and Ringo Helped us Come Together as a Family." Follow him on Twitter.
Copyright FREEL - NBC Local Media