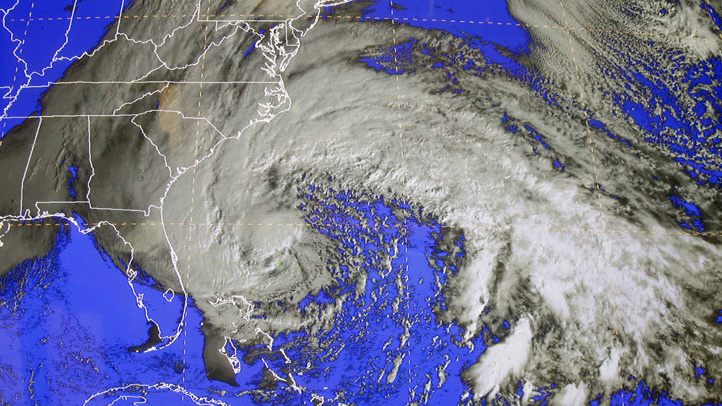 The National Weather Service did a good job forecasting the path and impact of Hurricane Sandy but did not give enough warning about the massive storm surges that wreaked much of the damage, the National Oceanic and Atmospheric Administration said in a report released Wednesday.
NOAA, the government agency that oversees the weather service, said that officials in New York and New Jersey didn't get storm-surge forecasts early enough, and those projections were often in formats that were difficult to use.
"We found that …forecasters performed well predicting the track of this extremely large and complex storm, which undoubtedly saved lives," NOAA official Peyton Robertson said in a statement. "But we also found problems with NOAA's ability to communicate the impacts associated with storm surge, one of the most significant hazards associated with Sandy."
U.S. & World
Stories that affect your life across the U.S. and around the world.
The 66-page internal review details the development of the October 2012 storm, and how the weather service tracked its approach and communicated that information to authorities along the Atlantic coast.
At nearly 1,000 miles across, Sandy was one of the biggest storms ever to hit the United States, affecting 24 states in some way. In the most hard-hit areas, such as New York and New Jersey, storm surges rose above eight feet. It dumped more than three feet of snow in West Virginia and North Carolina.
In the end, 72 people died as a direct result of the storm. More than 650,000 homes were destroyed, and more than 8.5 million households lost power. The total damage has been estimated at more than $50 billion.
The NOAA report recommended nearly two-dozen changes at the National Weather Service, starting with a revamp of its storm-surge forecasting system to include better maps and graphics.
NOAA also said the weather service needed to put out storm surge warnings earlier, to give people more time to figure out how to respond. Many said they they did not expect the surges to rise as high as they did.
The NOAA review included interviews with emergency management officials and media representatives, and relied on third-party surveys of people's perception of the storm.
Many of the reccomendations were similar to those made in a similar review after Hurricane Irene in 2011.
Investigators found that many people had a hard time understanding National Weather Service jargon, and were frustrated with the amount of time it took to find information on agency websites. Some websites gave confusing or mixed messages about the projected impact.
Those websites need to be streamlined, redesigned and made compatible with mobile devices, the review said.
The weather service said it is already moving on many of the report's suggestions in time for the 2013 hurricane season, which begins June 1.
The National Hurricane Center, for example, has agreed to issue forecasts and warnings for storms that are dangerous but don't maintain all the technical aspects of hurricanes. That was the case with Sandy, which was downgraded to post-tropical cyclone just before it made landfall.
National Weather Service Director Dr. Louis Uccellini said in a statement that his agency hadn't been thoroughly modernized in two decades. Most of its communications systems date to the 1980s, he said.
The agency will get help from a newly passed bill that provides NOAA with $48 million to supplement its "response and recovery capability," including better computers and higher-resolution forecasting models.
"I'm committed to implementing these recommendations to give America a National Weather Service that is second to none," Uccellini said.