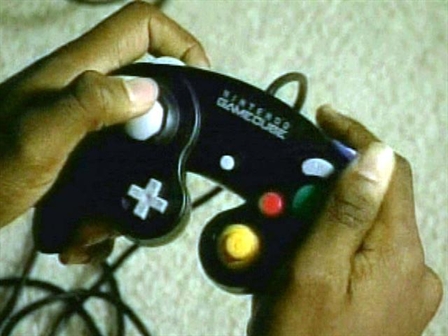 Deep inside the world's smallest battlefield, an army of evil is growing, and there's only one hope left. Roxxie, a tiny, battle-ready robot, is sent to the front lines to defeat the terror and find evildoers wherever they lurk.
No, it's not the latest science fiction movie. In fact, it's the newest tool in the fight against cancer—a videogame.
Developed by Pam Omidyar, a cancer researcher, Re-Mission is an action-packed videogame designed to educate young cancer patients about their disease, how their treatments work and encourage them to take an active role in fighting their cancer.
U.S. & World
Stories that affect your life across the U.S. and around the world.
"The original premise was that you can take the engagement of video games and use it to give kids a fun way to improve their health," says Pat Christen, president of HopeLab, the company behind Re-Mission.

In the game, teens control Roxxie as she enters the bodies of cancer patients to blast away malignant cancer cells in the hopes of stopping them from spreading. At the same time, the teens have to be sure that they monitor the side effects of cancer treatment, keep fevers and infections in check and make sure these patients are mentally prepared for all medical procedures. In other words, Re-Mission shows how cancer affects the body on all levels.
But the benefits of the game may go much further than education.
In a preliminary study by HopeLab, researchers gave 375 male cancer patients, ages 13 to 29, computers that were installed with Re-Mission and another popular video game. Besides being played by more than 80 percent of the patients, three months after receiving the computers, the patients that played Re-Mission were found to have high levels of self-esteem and increased knowledge about their disease. Even better, those who played Re-Mission had higher blood levels of chemotherapy and higher rates of antibiotic use, suggesting that they were better adhering to their cancer treatment.
"It gives teens and young adults a strong sense that they can beat their disease," says Christen.
In addition to the video game, HopeLab has also set up an internet-based community, where young cancer patients can talk to each other about their treatments, complain about side effects, post artwork and suggest tips to help make treatment a little more bearable. Combined with the video game, this site ensures that teens do not feel alone with their disease.
"Cancer makes you feel isolated," says Christen, "The power of a game that demonstrates that other people are going through the same things as you are is really valuable."
Saif Azar, a 14-year-old who was diagnosed with Hodgkin's lymphoma three years ago, plays Re-Mission about five hours a week and says that it helps him get through the worst of his treatment. "I think everybody should try it, because it is really helpful to know that other people are going through what you are," he says.
Re-Mission is geared to young cancer patients and available for free to cancer patients at www.remission.net. Because of the early success of the game, Christen hopes that a similar formula can be applied to help young people dealing with other serious illnesses including obesity, sickle cell disease and depression.
"Re-Mission works. It gives teens and young adults a sense of power and control over their cancer," says Christen.
Copyright HLTHO - Healthology